AMC Ambassador
The Ambassador was a step up from the Matador. If AMC came close to selling a luxury car, this would be it. There were stripper versions for cabbies and coppers as well. Only two of its model years fall within the smog-era. It was dropped after '74 in favor of the Matador pressing on in a wider role.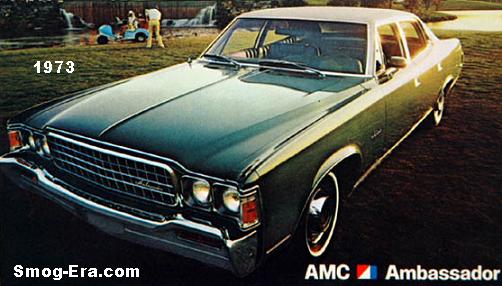 Propulsion in 1973 was provided by a standard 304 CID 2bbl V8. Optional were a 360 CID 2bbl V8, 360 CID 4bbl V8, or a 401 CID 4bbl V8. It was offered in coupe, sedan and station wagon variants.
For 1974, the car was updated, gaining 7 inches of wheelbase. It looked remarkably like the newly redesigned Matador, other than the size difference and headlight arrangement. The coupe was no longer available. Engine choices remained the same in its final model year.