AMC Pacer
In concept, the AMC Pacer was meant as a car designed around a Wankel rotary style engine and to be front wheel drive. That never came to fruition, as AMC was relying on General Motors to supply the engine who canceled the program.
As a production model, it was introduced for 1975. The Pacer was ahead of its time, so much that it's been the blunder of jokes since then. Some of the noteworthy points are the abundance of glass, as well as the passenger side door being slightly longer than the driver door. The Pacer was remarkably aerodynamic, as proven in windtunnel testing.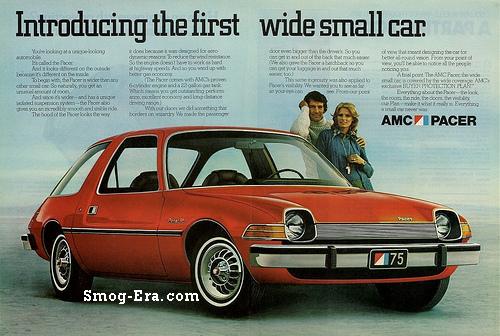 The car was marketed as a large subcompact, though it was almost as wide as a fullsize, with curb weight approaching midsize. The wheelbase was an even 100 inches, which was 4 more than a Gremlin. Initial body style was a 2-door hatch. For power, buyers had a choice of a 232 CID I6 making 100hp, or a 258 CID I6 making just 10 more. Better news was in store for 1977, as the Pacer was now also offered in a 2-door wagon configuration, woodgrain available!
Things were looking up for 1978, as the 304 CID V8 was now optional. However, it did make only 130hp. For 1979, the higher trim level of Limited was newly available in an attempt to pick up slagging sales. It didn't help— the last year for the Pacer was 1980. Notable Pacers through the years were the Pacer X and Pacer Levi Edition.