Alfa Romeo Alfetta GT
The GT Veloce was replaced with the this car for 1975. It was a bit bigger at 94.5 inches of wheelbase (2″ more), and 171 inches of overall length (10″ more). The Alfetta GT coupe was the first of a line of evolution into the Sprint Veloce / GTV-6 heritage.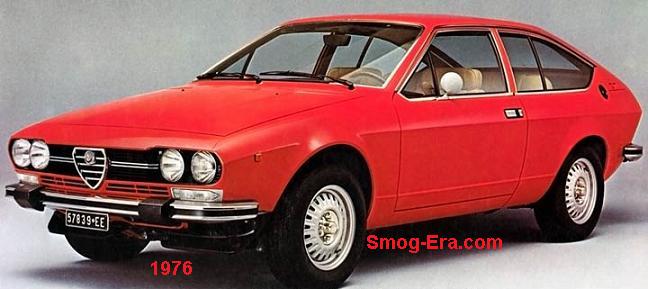 Physically, the engine was the same aluminum 2.0L DOHC MFI I4 as previously used in the GT Veloce. The bad news is that this engine was less powerful than the one it replaced. The horsepower was down to 110 and torque was also down to 110. A rear mounted 5-speed manual did the gear changes. Rear axle ratio was 4.10:1. Top speed was 111mph.
The Alfetta GT lasted through the 1977 model year. It was replaced with the Sprint Veloce for the next.