Li'l Red Express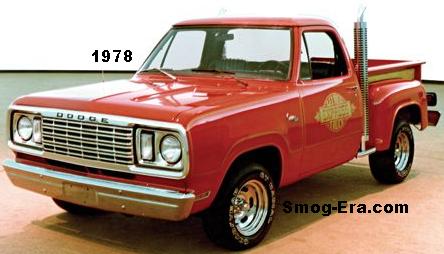 Dodge's Li'l Red Express Truck was introduced in 1978. The stepside body featured real wood inlays on the exterior of the bed, dual chrome exhaust stacks, gold graphics, 15×8 chrome slot wheels. You could get any color you wanted as long as it was, hence the name, red. The name was Bright Canyon Red. You did have a choice of seat colors— red or black. Seat style was also up to the buyer— bench or buckets.
Under the hood was a 'EH1' 360 CID 4bbl V8. This V8 was quite special, especially considering the era. The list of goodies in the EH1 was long. These were cylinder heads, intake manifold, Carter Thermo-Quad carburetor, roller timing chain and even a windage tray from the police 360. That's just the beginning. Also included were a camshaft, valve-springs, and valve-spring retainers for a 1968 340 4bbl. A dual snorkel air cleaner, chrome valve covers, exhaust crossover, and mufflers for a Hemi V8 rounded out the package. For 1978, EPA rules did not require a catalytic converter due to the truck's 6100 gross vehicle weight rating. The engine was rated at 225hp, though was probably underrated.
Transmission was a 727 'Loadflite' sporting a 2500 stall converter. Rear axle ratio was 3.55:1. This was the quickest production vehicle for 0-100 mph in 1978, as proclaimed by Car & Driver Magazine.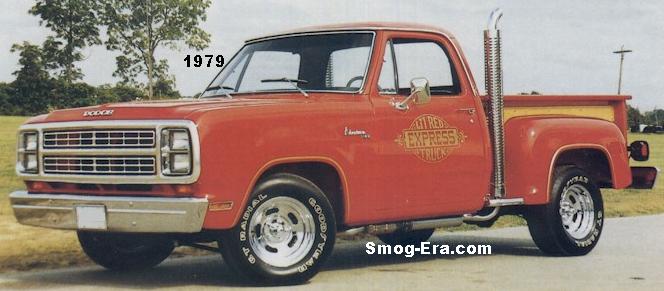 For 1979, some changes came. Most notifiable was the new quad stacked headlamps. The most depressing was the fact that a catalytic converter and fuel inlet restrictor were now required by the feds. The speedometer was also changed to a max of 85 mph. The red pigment was slightly tweaked and renamed Medium Canyon Red. After the second gas crisis, the L'il Red Truck was shelved for good and did not reappear in 1980.