GMC Motorhome
Introduced in 1973, the GMC Motorhome was a unique piece from the get-go. Historically, motorhomes have been sold in two phases. The body builder buys a bare chassis from a truck maker, then builds the house portion over it, at which time the complete vehicle is ready for sale. The difference here is that this RV was sold by GMC dealers as a complete finished vehicle to the end customer.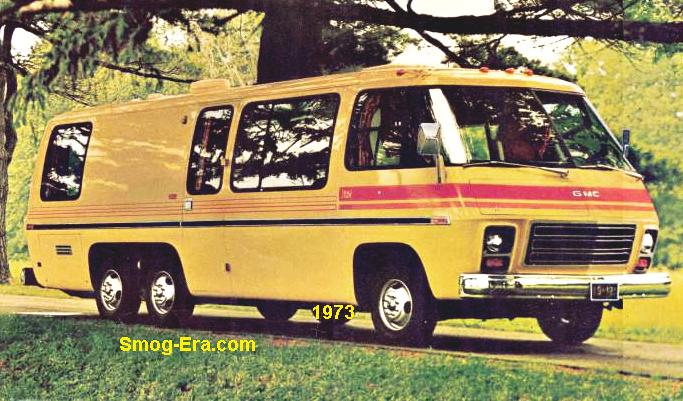 Two body lengths were offered. The first choice was a 23 foot unit which had a wheelbase of 140 inches and a gross vehicle weight rating of 10500 lbs. The second choice was a 26 foot unit which had a wheelbase of 160 inches and a gross vehicle weight rating of 12500 lbs.
The next decision that had to be made was the floor plan. Generally, the 23 foot unit offered four different layouts in the earliest years. The 26 foot unit offered eleven different plans.
Several decor groups were available as the next part of the order process for 1973-1974. The names used for these groups were Sequoia (green), Glacier (dark blue), Canyonlands (brown), and Painted Desert (orange). But today, those with the original interiors scream 1970s!
In 1975, Sequoia was replaced with Palm Beach which was still green. For 1976 the Glenbrook yellow plaid interior was added.
On another note, two other variants were produced by GMC. One was a partially finished unit for dedicated RV makers to complete and sell, much like a traditional motorhome. The other was sold as a completely stripped body shell, which went to commercial vehicle makers for bus or ambulance use.
It had alot in common with the Olds Toronado. Besides being front wheel drive, the engine and transaxle were straight out of the Olds. Out back were two independent 'dummy' axles that did not power a thing. Over these was an air suspension. Disc brakes were found out front. Drums were behind each of the four rear wheels.
As far as the engine, there was a 455 CID 4bbl Olds V8, initially. It made 265hp and 375 ft/lbs of torque. Backing it up was the TH425 3-speed automatic. The final drive ratio was 3.07:1, which was the same as in the tow package equipped Toronado. This combination lasted through model year 1976, at which time horsepower was 212 and torque was 344.
For 1977 & 1978 were the final two model years and there were some changes. The big block 455 was replaced with the small block 403 CID 4bbl Olds V8. It made 185hp and 315 ft/lbs of torque. Decor groups at this time were down to three. These were Palm Beach (green), Eleganza II (beige), and Kingsley (orange/red).
GMC's first and only complete motorhome still has a look that's ahead of its time. Parts are very much available, and so are complete vehicles. Countless clubs and specialists exist that keep these on the road. Chevy 496 and 502 engine conversions are common an well as performance variants of the original Olds engines.
Expect to buy anywhere from $5k for a decent driver to $75k or more for a rebuilt and modernized version. Guaranteed, you'll have the best looking Class A RV at the next tailgating party. And just think, Barbie has one and Hot Wheels still makes them.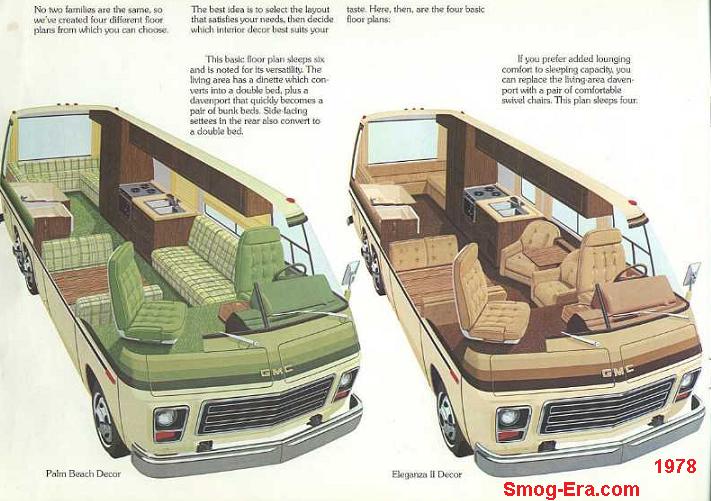 note: if you have more information or any corrections, please let me know at the above contact link