Celica
As of 1973, the sporty Celica coupe was in its third model year. This was the closest thing to what might have been called a Japanese pony car for the time. It had roughly a 95 inch wheelbase, was 164 inches long, and had a curb weight of 2400 lbs. One trim level was available in 1973 which was the base Celica, though it was also known as the 'ST'.

Powering the 1973-1974 versions was a 2.0L SOHC 2bbl I4 which made 97hp and 106 ft/lbs of torque. Shifting this one was a standard 4-speed manual or an optional 3-speed automatic.
For 1974, a Celica GT was added for sale. Also, a 5-speed manual transmission was added to the line as an option, but was standard in the GT.

In 1975, Celica received an updated appearance. This was done in the form of new grille and revised bumper that enshrouded the turn signals. This year a 2.2L SOHC 2bbl I4 was introduced for the GT. It made 96hp and 120tq at first. Additional torque is where this engine had the advantage over the 2.0 engine. As of 1976, a second body style was available on the Celica GT which was a liftback model. 1977 cars were carried-over with little change.

A full-on redesign was done for 1978. The wheelbase was now 98 inches, overall length was 175 inches and curb weight was heavier at about 2700 lbs. The body lost some of its lines and became more squared. B-pillars were added for better protection. The 2.2L engine was now standard in the full line— the 2.0 gone, for now. The same basic appearance carried forward until 1979. A limited edition Celica Sunchaser convertible, made by the Griffin group was offered starting this year as well.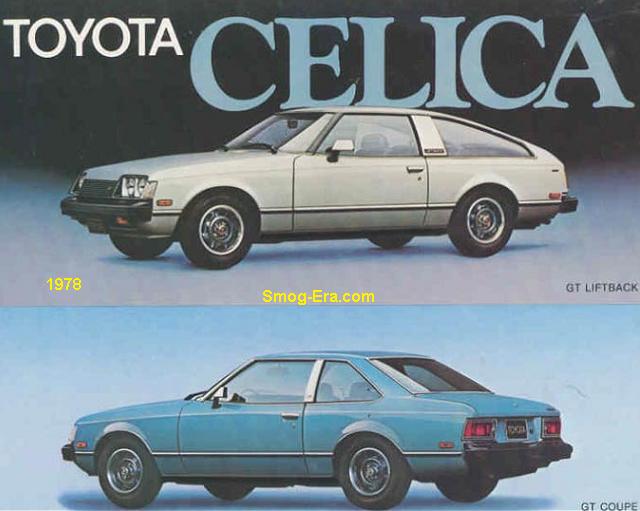 In 1980, a minor update was done. The most obvious change were the headlamps which were now rectangular units. Rubberized bumpers were part of the deal as well, though not as noticeable.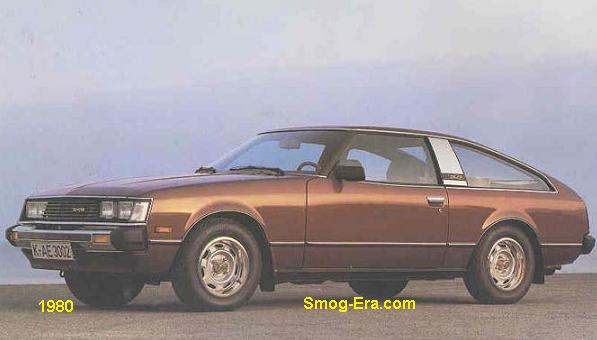 A 'US Grand Prix' edition was offered this year, commemorating Toyota's sponsorship of that series. In 1981, another short term package came out. It was the Celica GTA 10th Anniversary edition. As part of this package came nicer wheels, a better audio system, and unique black/gold color scheme, plus special badges. The bigger news this year was the 2.2 engine going away and being replaced with a 2.4L SOHC 2bbl I4 that made 97hp and 129tq. It was also the final year of the Sunchaser convertible.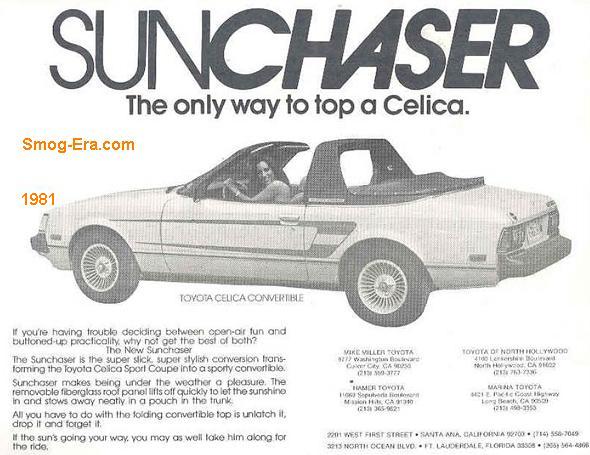 In 1982, yet another fresh generation bowed. Wheelbase was increased to 103.5 inches. Liftback and coupe versions returned along with a convertible. This one is known for its unique pop-forward headlamp arrangement— the lights are tilted back and visible when off, but tilt forward to a usable angle when on. The 2.0L 2bbl I4 came back to provide the base power for 1982. Optional was the 2.4L 2bbl I4 leftover from '81. Most buyers opted to wait a little later in the model year to get a 2.4L SOHC EFI I4, which replaced the 2bbl version. The updated 2.4 made 105hp and 137tq. A Celica GT-S was added this year. It was the sportiest version yet which added larger wheels and tires, special seating, wheel flares, and independent rear suspension, to name a few points. The 1983 Celica was carried-over largely unchanged.