Alfa Romeo Alfetta
Take away the 'GT' and you have the 4-door sedan version of the Alfetta nameplate. There were enough variances between the two to justify its own section here. The first official model year was 1975.
It shared the same aluminum 2.0L DOHC MFI I4, with the injection system by Spica. The horsepower/torque were exactly the same as in the GT at 110/110 respectively. The rear axle ratio was 4.10:1, and the transmission was a rear mounted 5-speed ZF manual, just like in the coupe.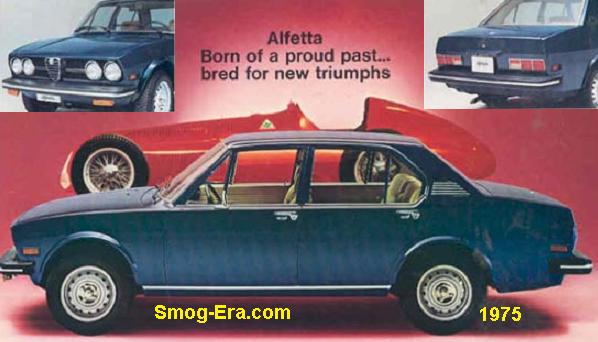 The sedan sat on a longer wheelbase at 98.8 inches. Its curb weight was heavier at 2600 lbs. Top speed on the sedan was 109 mph. 0-60 was 14.1 seconds. The sedan gained a mahogany instrument panel trim, and a clock as standard, which were not offered in the coupe.
The Alfetta lasted through the 1977 model year. It was replaced with a car simply called 'Sports Sedan' for the next. Due to rust issues, intact Alfettas are a rare sight today. If you find one, it's worth saving.
See the Alfetta GT HERE.