Delorean DMC-12
The sole model produced by DeLorean Motor Company was the DMC-12. It was introduced in 1981, but on the drawing board since 1974. The founder of the brand, John Delorean was American, while the car was actually produced in Ireland.
The body was made from stainless steel. This material looks great, but can be near impossible to repair for anyone but the most experienced body techs. Another feature this car was known for were the gull-wing doors. Again, a feature that looks great, but this style door could trap occupants in a rollover situation. Fortunately the DMC-12's low center of gravity nearly negates this possibility..
The wheels were of the turbine variety. Interiors could have been had as black or gray.
The original intent was to motivate this car with a rotary engine designed by Citroen. It was expected to produce about 200 hp. However, acceptable fuel economy couldn't be tuned into this engine within the allotted timeframe.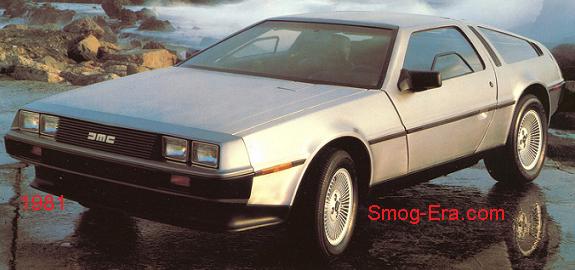 As it turned out, powering the production car was a rear-mounted 2.8L EFI V6. Bosch handled the injection system. This engine was a cross-engineered piece from Peugeot, Renault, and Volvo. Unfortunately, the 2.8 made just 130 horsepower. Transmission duties were handled by an optional 3-speed automatic or the standard 5-speed Renault manual. Either was actually a complete transaxle unit. Its final drive ratio was 3.44:1.
The car ended up being heavier than intended, but managed to stay right around 2700 lbs., so performance could have been worse. Zero to sixty times were in the 10 second range, which is just adequate. Top speed was estimated by the factory at 130 mph.
The last call for the DMC-12 was 1983. The company was in too much financial distress to continue.
However, this is one of a few smog-era vehicles that has a large following in the world of car clubs. Delorean was recently resurrected and the company is true to their past. There are even factory rebuilds, better engines, and new cars being built from old-stock. Oh, and the DMC-12 was featured in the Back to the Future movies, in case you've been under a rock.