Dino 308 GT4
The Dino 308 GT4 arrived for 1974, with its overall design coming via the Bertone design group. Unlike the previous Dino-sub-branded car, the 246GT, this one was marketed as a 'Ferrari'.
The '4' in the name meant 4-seats. In Euro-terms, this means 'GT car', hence the 'GT' part of the name. It all was placed on a wheelbase of 100.4 inches. The overall curb weight was about 3000 lbs.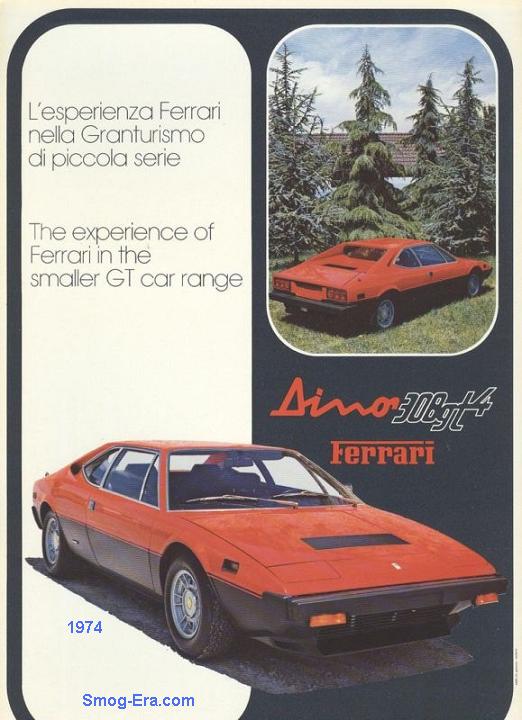 What does the '30' mean? In Ferrari-speak, that means 3.0 liters of displacement. More precisely, the engine was a 3.0L DOHC 4-2bbl V8. The team of carburetors came from Weber. Horsepower, depending on which country the car was originally certified for ranged from 230 to 255. This happened to be the first Ferrari with a mid-mounted V8 engine.
Performance of this car was alright. Euro cars got to sixty mph in about 6.4 seconds. Top speed was around 150mph.
Options were as follows: Leather seats, rear window defroster, air conditioning, power windows, tinted glass, and a sunroof.
However, in 1975, the Ferrari emblem did show up on the car. Also done was revising the wheels from 6-spoke to 5-spoke. New retractable type seatbelts were used now. Tinted glass and air conditioning was now standard equipment. Horsepower was now rated at 240 in U.S. cars.
In 1978, power sunk to just 205hp. The 308 GT4 was sold through 1980.