Volvo 262C
Volvo's luxury 2-door coupe came out for model year 1978. Its seating arrangement was 2 plus 2. The unique parts of its design came via Bertone. A main feature was a unique roof that was a factory chop-top. Curb weight was about 3200 lbs and the wheelbase was 104 inches. Pricing was rather exclusive at the time— about $15k.
Powering it was an aluminum 2.7L SOHC EFI V6. It made 125hp and 148 ft/lbs of torque. The base transmission was a 4-speed manual. A 3-speed Borg-Warner automatic was the optional choice.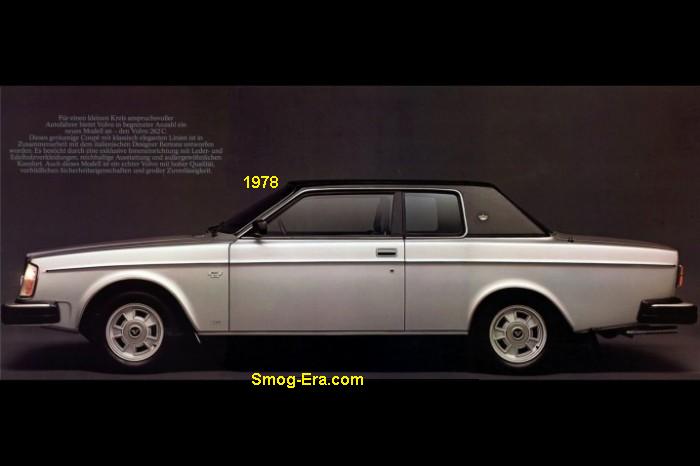 Soft leather covered the seats and door panels. Elm-wood veneer was also found on the door panels. Full-power features were found within. Steering was rack & pinion, while the brakes were 4-wheel disc. The 262C had unique color schemes. For 1978, it was a black roof with a metallic grey body. In 1979, a gold color was added.
The 262C model name lasted through the 1979 model year, then was replaced with the simple model name of 'Coupe' thereafter. There were a few changes when this happened, so watch for its own page here. As for the 262C, it's one to watch, and will most likely be one of the smog era's value standouts in the future.