Chrysler LeBaron
The LeBaron was introduced for 1977 in answer to GM's newly downsized big cars. However, the new M-body was slightly smaller than fullsize with a wheelbase of 112.7″. The body styles were a coupe or sedan, whereas a wagon version to be introduced a couple more years down the line would be known as Town & Country. The top trim line was the LeBaron Medallion. Engines for '77 were a 318 CID 4bbl V8 making 145hp or 360 2bbl V8 making 155hp.


For '78, the engine choices opened up a bit. Standard choices were now a 225 2bbl S6 with 100hp, or a 318 2bbl V8 making 140hp. Optionally you could get a 360 CID 2bbl V8 making 155hp, or a 225 CID 1bbl S6 making 90hp.
In 1979, the engine choices were carried over, though the V8s lost 5hp, while the 1bbl S6 gained 10. The 2bbl S6 retained the same horsepower rating.
For 1980, the 2bbl S6 was dropped from the option list. The 318 was now rated at 120hp, while the 360 was now rated at 130hp. Also noteworthy for this year was a mild refreshing, plus the coupe got a new shorter wheelbase at 108.7″.


1981 was a carryover year, but the 360 V8 was dropped. This was the last year for a rear wheel drive LeBaron.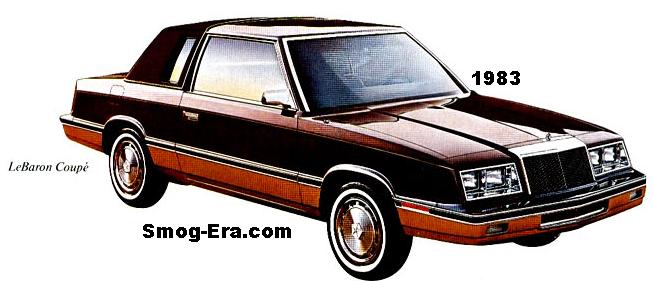 1982 and 1983 were the dawn of the K-car LeBarons. This meant front wheel drive and a 4 cylinder. The good news was that the fuel economy improved greatly. The better news was that a convertible was now available. Engines in '82 were a choice of a 2.2L 2bbl Chrysler I4 making 84hp, or a 2.6L SOHC 2bbl Mitsubishi I4 making 92hp. For '83 the 2.2 gained 10hp, and the 2.6 gained just 1. The LeBaron lived on for many more years past 1983.