Capri

The Mercury Capri initially was imported via Ford of Germany starting in the '70 model year…. fast forward to 1973… The Capri was powered by a 2.6L V6 for '73, and a 2.8L V6 for '74. The latter engine had redesigned cylinder heads for higher durability.

The Capri took a hiatus in North America for 1975. It returned as a mildy restyled 1976 model. You could get a 2.3L I4 or a 2.8L V6 underhood. The last year for this generation was 1978, which really were leftover '77s.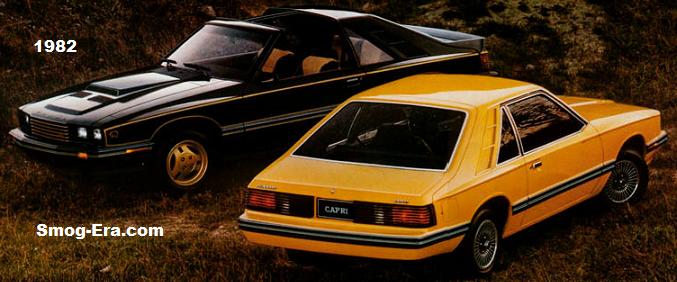 Fast forward yet again, this time to 1979. The Capri came back and this time it was on FoMoCo's Fox platform which it shared with the Ford Mustang. Engine choices just about mirrored the Mustang: 2.3L I4, 2.3L Turbocharged I4 ('79, '80, '83), 2.8L V6 ('79), 3.3L I6 ('80-'82), 3.8L V6 ('83), 4.2L 2bbl V8 ('80-'82), 5.0L 2bbl V8 ('79 & '82), 302 4bbl V8 ('83). The performance oriented trim levels through 1983 were the RS, and RS Turbo.