'Cuda
The 'Cuda was the highest performing, best looking version of the E-body Barracuda series. But we're talking about 1973/1974 versions here. Relatively speaking, they were still performers and were still slick looking cars, but the 1970/1971 versions put these to shame. The good news is that the smog versions are still priced reasonably— not six figures like the others.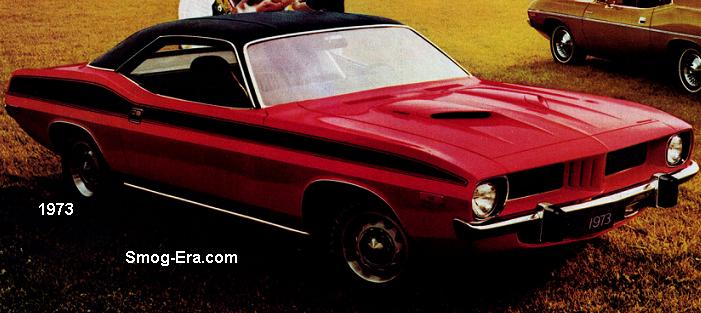 Three engines were available these years. The basic commuter engine was a 318 CID 2bbl V8 that made 150hp in 1973 or 145hp in 1974. A 340 CID 4bbl V8 was the top option in 1973 and it made 240hp. For 197,4 the top dog was a 360 CID 4bbl V8 that made 245hp. Shifting was done by a 3-speed manual, 4-speed manual or a 3-speed 727 automatic.
Now, back to the 'Cuda part of it. Checking off 'Cuda' on the order pad got you the go-fast goodies, or atleast your car looked the part. The stepping off point was the tape stripes down the side, and the two scoops built into the hood. Next were the standard fornt disc brakes, but unlike in the base Barracuda's discs, these were standard vacuum assisted. The suspension was upgraded to heavy duty. Last was a color-keyed grille, blacked out tail panel, and raised letter or whitewall tires. The extra features bumped the weight of the 'Cuda to about 3300 pounds— about a hundred more than a base Barracuda.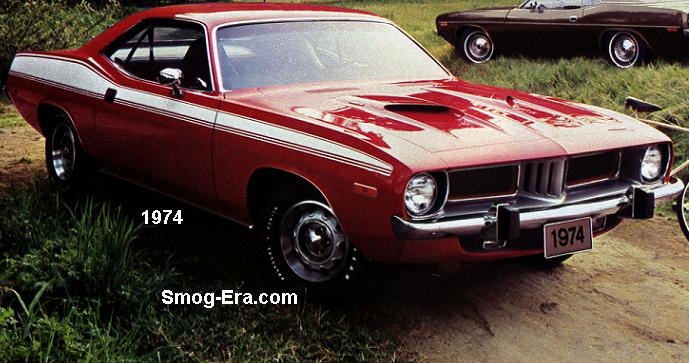 1974 was the end of the line for the 'Cuda and Barracuda nameplates. Chrysler teased everybody about a 1975 car, but it never happened.