Corniche
For the low end of six figures, you could have had the Corniche during the smog-era. It was sold in coupe or convertible body styles. Weighing nearly 5000lbs, it was a tank of a car. The wheelbase was 119.5 inches. Length was 203.5 inches.
Underneath, it was quite ahead of its time. The suspension system had automatic leveling. Brakes were four wheel disc. Body construction was unibody WITH auxiliary frames added.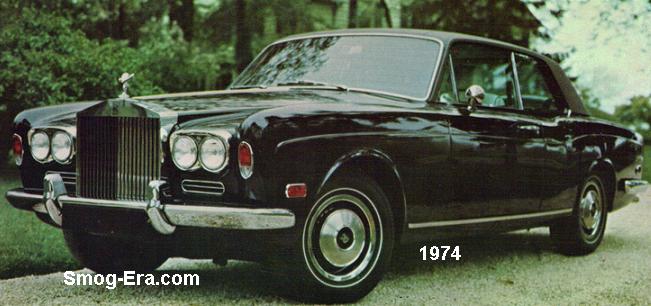 In 1977, the car received a mild mechanical and appearance update. Rack and pinion steering found its wa up front. Also, bumpers were replaced with an alloy material to save weight. The rear suspension was independent in nature, as of 1979.
What powers such a special ride? It's a 6.75L 2-1bbl V8. Horsepower was rated just around 220. Rolls Royce must have had faith in General Motors, as the transmission was a TH400 3-speed automatic.
For 1980, the carbureted V8 was replaced with a 6.75L EFI V8 on Federally-certified Corniches. Grey Market specials retained the carbs.
In 1981, the coupe version was dropped, leaving just the convertible. The Corniche nameplate lasted well past the smog-era.