Ferrari 308 GTB
Ferrari's 308 GTB arrived in 1975. Its fiberglass body was designed by the famed Italian design group Pininfarina. The basic platform was shared with the Dino 308 GT4. Wheelbase was just 92.1 inches, and the car weighed about 3100 lbs.
Powering this two-seater exotic was a mid-mounted 3.0L DOHC 4-2bbl V8. The 4 carburetors were sourced from Weber. The oiling system was of the dry-sump style. The compression ratio was 8.8:1. It made 240hp and 195 ft/lb torque, though Gray Market example usually had around 255hp. For shifting, the gears, there was a rear mounted 5-speed manual transaxle. For the final drive, both 3.71 and 4.06 ratios were utilized. Sixty mph arrived in about 8.2 seconds, and the car had a top speed of approximately 150mph.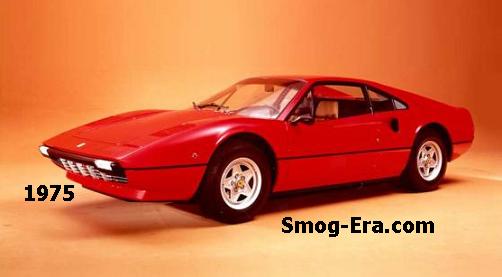 In 1977, the body panels were changed over to steel. This actually did not come with a major weight penalty, as the car now weighed about 3160 lbs.
In 1980, a fuel injected version of the GTB was born, resulting in the 308 GTBi. The 4 carburetors were scrapped and replaced with a Bosch K-Jetronic unit. This created a more drive-able and more efficient vehicle overall, which was now a 3.0L DOHC EFI V8. Horsepower was still not great though at 205 in U.S.-spec cars, while Gray Market cars had 214. Torque was rated at just 181 ft/lbs in U.S.-spec cars. The standard carbureted 308 GTB was still offered in 1980, overlapping the 308 GTBi just this one year.
For 1982, the 308 GTB-QV was created. 'QV' meant quattrovalvo. This meant that the engine was now a 3.0L DOHC EFI V8, but with 4-valve cylinder heads. This engine was ginat step forward and provided the best performing 308 GTB ever. Horsepower and torque were now 230 and 188 respectively. It was sold side by side with the regular 308 GTBi for '82, then the 'i' was discontinued.
The final year for the 308 GTB was 1985.
One final note— Starting in 1978, the 308 GTB Michelotto was sold. What this car offered was a lighter-weight frame/body/wheels, Brembo brakes, non-synchro racing transmission, and a limited slip ZF differential. It was made for race use and few, if any ever saw the street. It's worth a mention, but good luck coming up with the six-figure auction prices.
In summary, the major changes happened as follows:
1975- the 308 GTB arrives
1977- the body is changed over to steel, plus a targa roof variant called the GTS was now offered
1980- the 308 GTBi/GTSi is born
1982- the 308 GTB-QV is born

more reading…
See the 308 GT4 page HERE.