Ford Mustang
The Mustang was finishing up a generation in 1973. This era ('69-'73) had the longest overall length at 190 inches. Body styles available were a notchback coupe, fastback coupe, and convertible. Trims offered in '73 were base, Grande, and Mach 1.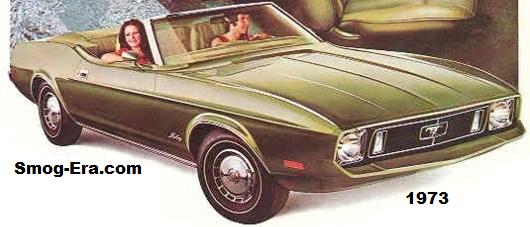 Engines this year were a 250 CID 1bbl I6 (88hp), 302 CID 2bbl V8 (135hp), 351 CID 2bbl Windsor V8 (156hp), and a 351 CID 2bbl Cleveland V8 (154hp). Look at those horsepower numbers— certainly not the best of the generation. You could back these engines with a 3-speed manual, 4-speed manual, or a 3-speed automatic. A yellow '73 Mustang named Eleanor was a main character in the 1974 flick, Gone in 60 Seconds.
For the next generation see HERE.
The Mustang received another extensive redesign for 1979. This time it was based on the Fox-body architecture, which until then was used under the Ford Fairmont/Mercury Zephyr. Body styles were a 3-door hatch or a notchback coupe, with a convertible being available as of 1983. The T-top roof option was available once again as of 1981.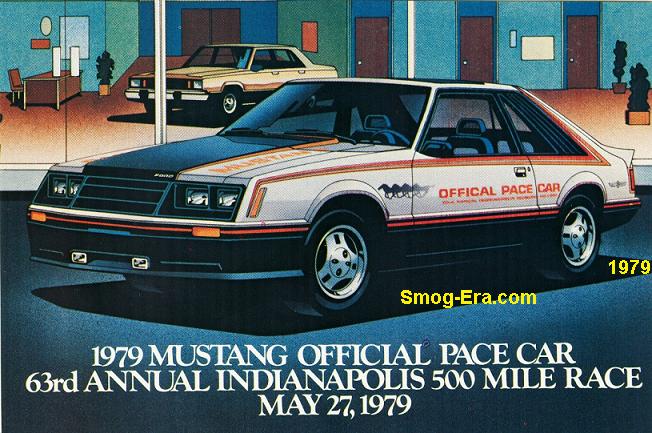 The Ghia trim level returned for 1979, not to mention the base version. And since the Mustang was the official pace car for the Indy 500 this year, commemorative versions of such were sold to the public. The Mustang GT returned for 1982 onward. Also added this year were L, GL, and GLX packages. Turbo GT was available in 1983.
Engine choices were a 2.3L 2bbl I4 for 1979-1982. The base engine became a 2.3L 1bbl I4 for 1983. A 2.3L 2bbl turbocharged I4 was sold in 1979 and 1980, then skipped a few years to 1983. The 2.8L 2bbl V6 was available in early 1979 only. The 3.3L 2bbl I6 was offered from 1979-1982. A new 255 CID 2bbl V8 was around for 1980-1982. The 302 CID 2bbl V8 was available in 1979 & 1982, but not in 1980-1981 thanks to the 255.


A 302 CID 4bbl V8 replaced the 2 barrel version for 1983. Horsepower on this one was 175 and torque was 275.
For gearboxes these years, you could shift a 4-speed manual, 4-speed overdrive manual, or a 3-speed automatic. As of 1981, you could also get a 5-speed manual.
The California Highway Patrol purchased over 400 Mustangs in 1982. While lacking adequate prisoner transport space, they were used extensively for special patrol and high speed takedown duties.