DeTomaso Deauville
This car was made from 1971-1985, straddling either end of the smog-era by two years. Generally not much changed through its model run. Deauville was a mid-to-fullsize car. It sat on a 109 inch wheelbase, with a length of 191 inches, and the curb weight was almost 4300 lbs. The only body style was a 4-door sedan/saloon. Its overall appearance was reminiscent of a Jaguar XJ6. Inside, they were trimmed quite nicely, with rich wood and leather throughout.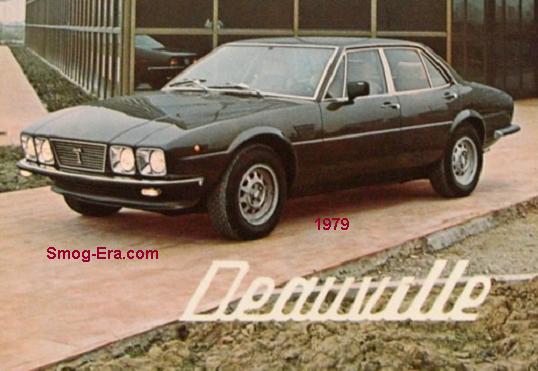 Under the hood was a 351 CID 4bbl Ford Cleveland V8. At its best, it made 330hp— plenty to move this heavy tank. At its worst, 270 was the number— still plenty to move it out. Backing it was a 3-speed Ford C6 automatic transmission— plenty strong for that much power in this heavy a tank.
The Deauville was never certified for U.S. sale. Possibly, there are Gray Market cars already here, but the last one built is over the 25 year minimum rule that the Feds have— I.E.- legal importation with little hassle. While they atart out with plenty of power, these are a great candidate for modifying due to the Ford underhood.
See its British look-a-like, the XJ6 HERE.