Ford Thunderbird
Thunderbird



In the 1970's, the Thunderbird put even more distance between itself and it's early sport-coupe image. The emphasis was now on appearance and luxury, two things the '72-'76 Thunderbird offered in abundance. Cushy overstuffed seats, thick carpets, leather upholstery, and a long list of options greeted Thunderbird shoppers. In fact, there were very few differences between a well-equipped Thunderbird and a Lincoln Mark IV, which shared the same platform and most of the sheet metal. The most collectible of this generation are the rare 20th Anniversary Silver and Copper Luxury Editions. Engines were a standard 429 V8 up until 1973, and a 460 V8 was standard after that.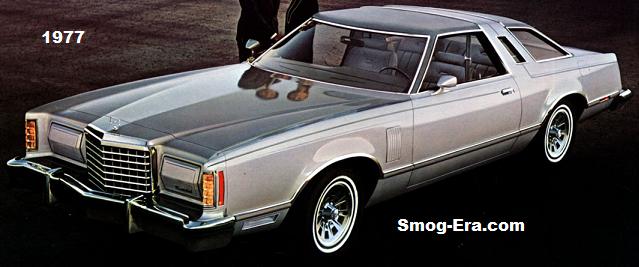 In 1977, Thunderbird was trimmed down to the LTD II platform, but retained most of the luxurious amenities of previous models. It lost a few hundred pounds in the process but was still a tank. A noticeable change were the hideaway headlamps. The 460 big-block engine was gone, but buyers had the choice between the 302, 351, and 400 V8's. A "Sports Appearance Group" option was available, and T-tops were available starting in 1978. 1979 was the final year for this platform, and later Thunderbirds shared very little with the over-the-top 70's models.


1980 brought about a completely new T-bird, but the hideaway headlamps remained part of the design. This time, the 'Bird had landed on the Fox (Mustang/Fairmont) platform. Standard power for 1980 was a 255 V8. Standard engine for 1981 was a 200 I6, and a 232 V6 followed up for the 1982 standard engine. The 255 was still available as an option those two years. Though very underpowered, a 302 V8 was optional in '80-'81. For 1982, the 302 was abandoned for this one year.


For 1983, the Thunderbird received an extensive redesign. Still on the Fox chassis, this T-bird was well received due to its great appearing aerodynamic shape. This was the slickest car at the time to race in NASCAR, so slick it caused Chevy and Pontiac to come up with radical designs later on. Available engines this year were a 3.8L V6, a 5.0L V8, and the top performing 2.3L Turbocharged I4 in the Thunderbird Turbo Coupe.