Oldsmobile Cutlass S
The Cutlass S as of 1973 still was the aero-type Cutlass variant, keeping the historical, rounder back half. It was now redesigned as part of GM's colonnade (A-body) line. The 'S' was advertised as having a meaning of 'Sport, Spirit, Swagger'. This year it was only offered in a 2-door coupe style, sitting on a 112 inch wheelbase.
Standard power was a 350 CID 4bbl single exhaust V8 making 180hp. Next up the chain was a 350 CID 4bbl dual exhaust V8 making 200hp. Two transmissions were available with these which were a 4-speed manual, or a 3-speed TH350 automatic. Two different big block combinations were offered as well. One was an L75 455 CID 4bbl V8 making 250hp backed with a TH400 automatic transmission, or an L77 455 CID 4bbl V8 putting out 270hp backed with the 4-speed manual.
For 1974, a few engine and trans changes were in order. The 4-speed was no longer offered with any engine. Because of this, the L77 455 was dropped as well. The car received updated rear lights and rear bumper, plus a fresh grill out front.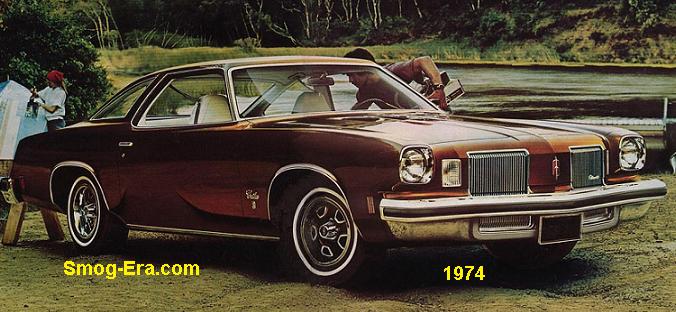 Once again a few more changes occurred for 1975. One was another grille update. The base engine was now a 250 CID 1bbl Chevrolet I6, making 100hp. Another engine was offered which was a 260 CID 2bbl V8 making 150hp. The dual exhaust 350 was dropped leaving only the single exhaust version for an option. However, the 455 was still offered too.
In 1976, the 'S' received an extensive update which included a slanted-nose that was unique from other Cutlass variants. Headlamps were also updated to rectangular. A sedan body style was added this year to the Cutlass S line. Incidentally, the sedan sat on a 116 inch wheelbase, which was 4 inches longer than that of the coupe. A 5-speed manual was now offered with the 260 V8. It was the last year for the 250 I6 and 455 V8.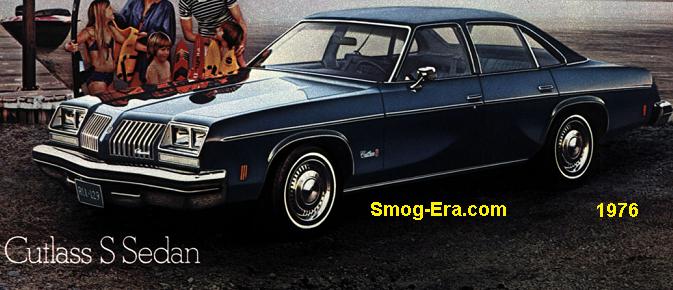 A 403 CID 4bbl V8 appeared in 1977 as the new top engine. It made 180hp. A 231 CID 2bbl Buick V6 was the new base engine which made 110hp. This year was also the last one for the Cutlass S.
For complete history of the Cutlass S, see the Rocket100 page HERE.