Barracuda
The 1973 and 1974 Barracudas reflected the winding down of the model. It was configured only as a 2-door 4-seat coupe. They were slightly heavier, slightly slower, and due to the new bumpers, slightly uglier than the '72 down cars. The car sat on a 108 inch wheelbase, had an overall length of 193 inches and weighed in at about 3200 lbs. The upside was that the car was now slightly safer, thanks to standard front disc brakes as of 1973.
In a very early move of political-correctness, the Barracuda was no longer marketed as a performance vehicle. It was now referred to as a 'specialty compact'.

Three unique add-on packages were offered on the basic Barracuda, for those who wanted to bring it a little closer to 'Cuda looks and performance (watch for separate page on the 'Cuda itself). First was the A51 Sport Decor group, which added wheel lip moldings, tape stripes, and a twin-scoop hood. Next was the J97 Rally Instrumentation group that added a tachometer, 150mph speedometer, oil pressure gauge, trip odometer, clock, plus 3-speed wipers. Last was the A36 Performance group which added a 3.55 axle ratio, Sure-Grip differential and heavy duty heavy duty radiator.
The base 1973 engine almost was 1972's straight 6, but that didn't happen. The six was dropped before the model year started, making the 318 CID 2bbl V8 the standard power source. It made 150 hp. The optional power was provided by a 340 CID 4bbl V8 that made 240hp.
The 1974 base engine was still the 318 2bbl, though with 5 less horsepower, down to 145. The 340 4bbl was replaced with a 360 CID 4bbl V8 that made 245hp.
The base transmission with the 318 was a 3-speed manual. A 4-speed manual was optional on the 318 and standard with the 340 & 360. A 3-speed 727 automatic was optional on all.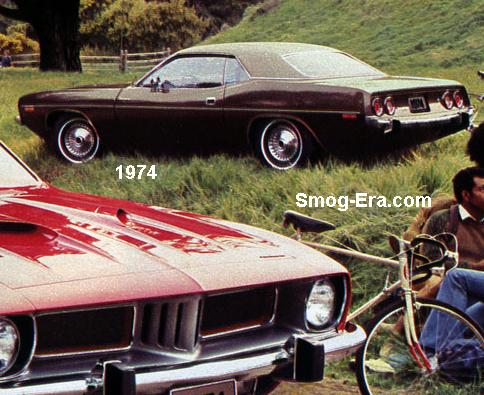 The Barracuda would not return for 1975. There were drawings and styling bucks created for a brand new design, but the production version never came to reality.