Montcalm
The Meteor sub-brand of Mercury had two models remaining in the lineup as of 1973. These were only sold in Canada, but of course it's possible to find one near the border, or import one from The Great White North. That's if you want something a bit unique.
One of these cars was named Montcalm. It was the higher end model of the Meteor line, but still lesser-trimmed than a comparable Mercury-branded car. Its nearest equivalent was the Mercury Marquis.
Notable for 1973 was the Montcalm Silver Year Edition, which was commemorative to Meteor's 25th Anniversary. Included was a silver metallic paint job, topped with a black vinyl roof. Also part of the deal was extra brightwork, 'luxury style' hubcaps, and bumper guards. Inside was a choice of blue or black cloth seating.

The Montcalm was available in three body styles. They were the standard fare of 2-door hardtop coupe, 4-door post sedan, and a 6-passenger station wagon. The coupe and sedan both seemed to always be equipped with rear wheel-skirts, whereas the wagon would not be.
Standard power for the coupe and sedan in 1973 was provided by the 351 CID 2bbl V8, which made 159hp in U.S.-specs. Presumably, it made more with Canada's lighter emissions requirements of the time.

The base power for the station wagon was provided by a 400 CID 2bbl V8 that made 260hp in Canada. This 400 was optional in the trunked versions. For the gas-guzzling crowd, a 429 CID 4bbl V8 was offered until the end of 1973, and a 460 CID 4bbl V8 was offered through the end with all body styles. Montcalm for 1974 was virtually unchanged.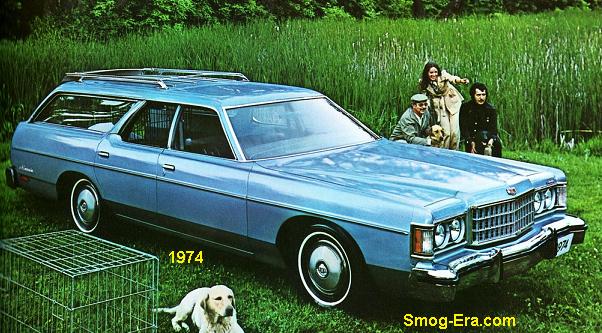 In 1975 a new grille was issued to the car, replacing the former checkerboard pattern. Also, the emblem above the grill now became a hood ornament. The rear lamps were restyled as well. No changes were made for 1976, which was the end of the line for the Montcalm.