Ford Cortina
Believe it or not, a United Kingdom Ford came close to American shores. It was sold in Canada up until 1973, which makes it easier to find a used example.
However, sales were low for the '70 model year and there were no '71 models. It was time for one last push in '72, but that was not a fruitful year either. Late '72 models were carried over and many were sold as '73s. With these factors, the Ford Maverick taking hold, and the dollar to British-pound ratio, it was determined that the Cortina would not move on. Near the end, marketing was virtually non-existent for this car.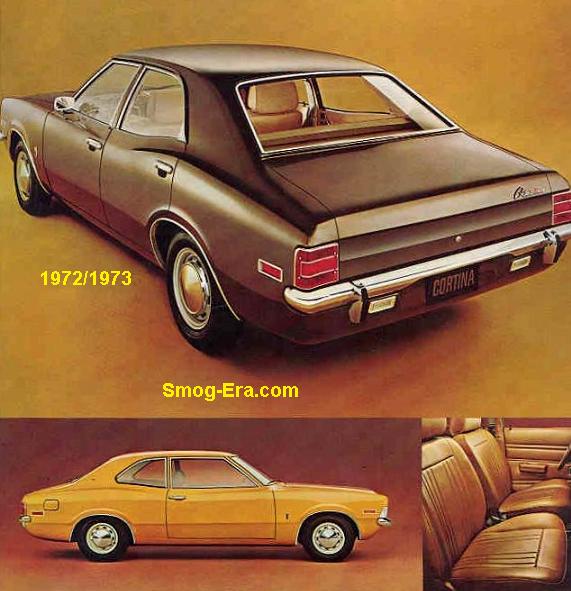 The platform was known as 'Cortina Mark III'. This generation, from the side, looks remarkably like a Ford Maverick of the time. Its nose looks like an early 60s Falcon. Unfortunately, the Mark IIIs were known to rust horribly and there's not many left today.
Body styles were 2-door coupe, 4-door sedan, or station wagon. Trim levels were base, L, or GT. The GT added a tachometer, clock, stripes, and a more powerful engine— see more below.
North American Cortinas can be told apart from their European counterparts by the added side marker lamps and front seat headrests. The wheelbase was was 101.5 inches. Front track was 56 inches.
The base engine was a 1300cc 1bbl I4 making 62hp, though it was not too common at this point. Two alternate engines were offered. One was a 1600cc 1bbl I4 making 75hp. The other was available in the GT only, which was a 1600cc 2bbl I4 making 89hp. This engine was further enhanced with a performance camshaft and a bump in the compression ratio to 9.6:1. As a further bonus, its carburetor was supplied by Weber. Transmissions in all Cortinas were a choice of 4-speed manual or 3-speed automatic.