Jeep Scrambler
The Jeep Scrambler came out near the tail end of the 'smog- era', in 1981. This was a pickup truck on a stretched CJ7 chassis which became known as the CJ8. Off-road options included heavy duty shocks, extra duty suspension, and limited slip rear differential.
Two trims were available. The Scrambler SR added hight back vinyl bucket seats, day/night mirror, spare tire lock and the like, and was a general midline package with convenience features. The Scrambler SL added high back bucket seats, leather wrapped steering wheel, and generally, more brightwork and fancier trim.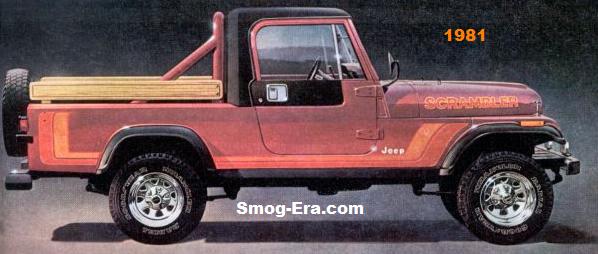 Engine choices numbered two. First was the the 151 2bbl Pontiac I4, which made 82hp and 125 ft/lbs of torque. Second was the 258 CID 2bbl I6, which made 110hp and 205 ft/lbs of torque.
For transmissions there three choices, depending on which engine you had. The I4 was offered with a Borg Warner SR4 4-speed manual as standard, while a Chrysler 904 3-speed automatic was optional. The I6 was offered with a Tremec 4-speed as standard T176 4-speed manaul as standard, while the optional choice was a Chrysler 999 3-speed automatic.
For 1982, an optional 20 gallon fuel tank was now offered in addition to the standard 15 gallon unit. A 5-speed manual transmission was also a new option this year. Scramblers for 1983 carried on with little change— This is where we stop, but the Scrambler name held on through 1986.