BMW 2002
The 2002 was sold here until 1976, and was commonly available as a 2-door coupe and, not so commonly, a convertible version. The U.S. version of the 2002 mainly came in two trims, the base 2002 and the 2002tii. Not 'officially' exported to the the U.S. was the 2002 Turbo which was around until 1974. For 1976 the 'tii' model was dropped and in its place was now a 2002A, the only tier over the base model.
Powering the base model was a 2.0L SOHC 2bbl I4 which made 96hp and 106 lbs of torque. Either a 4-speed ZF manual or 3-speed Borg-Warner automatic were behind it.
The 2002tii got a 2.0L SOHC MFI I4. The injection system was supplied by Kugelfischer. Horsepower was 125 and torque was 127. This version of the 2002 was meant for performance. Other improvements were wider wheels, larger master cylinder, larger brake rotors & front hubs, better brake pads, and boxed rear trailing arms, to name a few. The last year for the tii was 1975, however.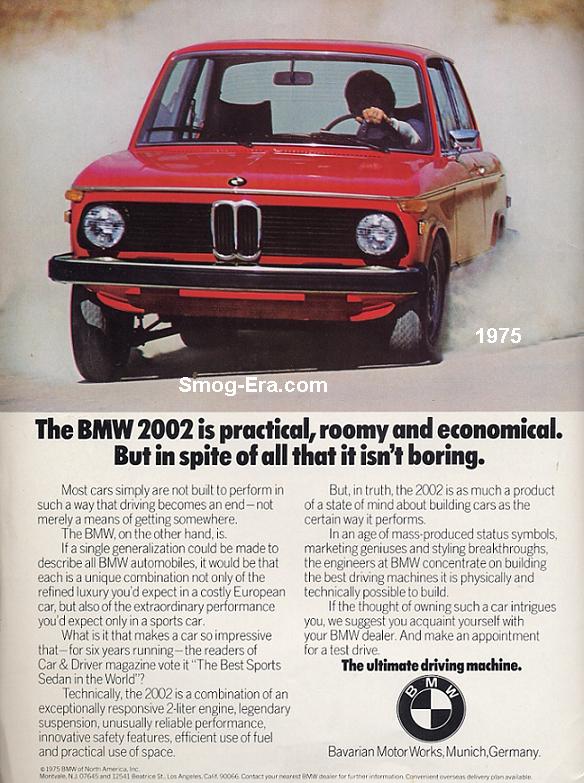 The 2002 Turbo, should you find one in the U.S., is easily identifiable. The extra touches were wide wheel flares, front bumper delete, large front spoiler, and lettering. The engine used was a 2.0L SOHC MFI Turbocharged I4. It made 170hp. Zero to sixty mph was reached in just under 8 seconds.
The BMW 2002 is lovingly referred to by its followers as simply the '02'. These cars have quite the cult status.