Chevrolet Laguna
The Laguna was spawned in 1973 as a sportier version of the Chevelle. Ironically, the Chevelle SS was still around this year, and both overlapped the sales floor. Initially one could be had in 4-door sedan, station wagon or 2-door coupe format. The coupes had a wheelbase of 112 inches while the sedans and wagons were at 116 inches. The wagons were offered in base or a more luxurious Estate version.
Standard in the Laguna was a 350 CID 2bbl V8 making just 145hp. One option was a 350 CID 4bbl V8 making 175hp. Top engine was a 454 CID 4bbl V8 making 245hp. Transmissions were quite varied. A 3-speed manual was standard on the 350 V8s. A 4-speed manual was offered with all engines. A 3-speed TH350 automatic was available on the 350 V8s. A stronger 3-speed TH400 was offered with the 454 V8.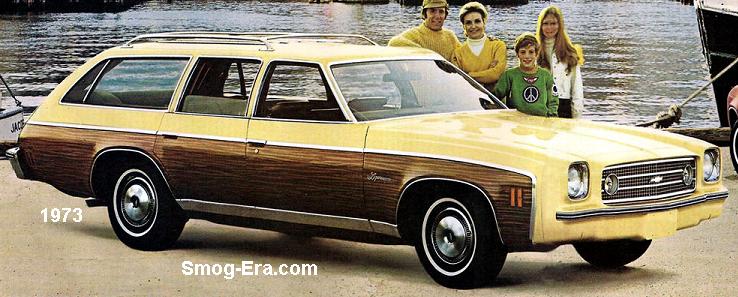 In 1974, the sedan and station wagon variants were quietly dropped from the lineup. The double round taillights gave way to single oval lights on each side. All Lagunas now carried the 'Type S-3' moniker as if to pay homage the Chevelle SS which was now gone. The real reason was that the SS badge was not well liked in the insurance industry. For this reason, 'SS' may not have gone over well on a Laguna but 'S3' could still be marketed as sporty. Engine choices were expanded this year to include a 400 CID 2bbl V8 with 150hp, and a 400 CID 4bbl V8 making 180hp. The 454 V8 sunk to 230hp and the 350 4bbl V8 sunk to 155hp. Only the 350 2bbl retained the same power as the year before at 145.

For 1975 a new look appeared on the Laguna which indicated Chevy's deeper dedication to obtain NASCAR wins. The new appearance included a more aerodynamic nose and louvers over the quarter glass. Also changed were the rear lights which were now wide rectangles in shape. The top engine was still the 454 but horsepower fell again to 215, and it was dropped mid model year.
In 1976, the 350 4bbl and 400 2bbl were dropped. The base engine was now the brand new 305 CID 2bbl V8 which made 140hp. The 350 2bbl and 400 4bbl were the optional choices. Sales were slowing down and the GM midsize line was nearing a generational overhaul, so the Laguna nameplate disappeared after this year.