AMC Matador Coupe
The coupe version of the Matador arrived for 1974. It was quite quirky and looked nothing like the regular Matador. The Coupe was offered in hatchback configuration, but was closer to midsize than the other Matador. Brougham was the premium trim package. 'X' was the sporty trim package. An Oleg Cassini package was later offered in the Brougham. This was a plush woven fabric interior setup, as well as a vinyl roof group. The Barcelona package replaced the Brougham for 1977. Of course, the base model was always around too.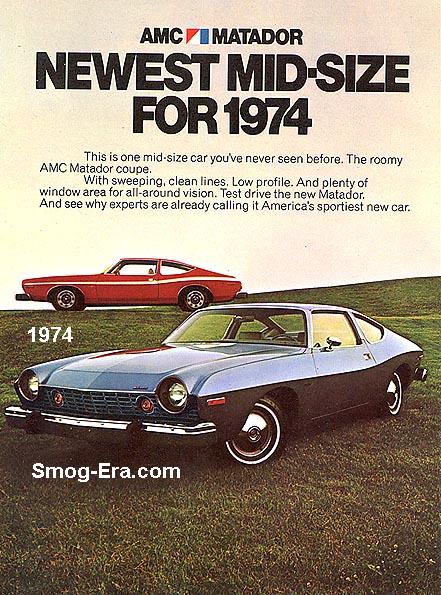 Engine offerings were vast. Standard was a 232 CID 1bbl I6 making 100hp, a 258 CID 1bbl I6 making 110hp, a 304 CID 2bbl V8 making 150hp, a 360 CID 2bbl V8 making 175hp, a 360 CID 4bbl V8 making 195hp, and even a 401 CID 4bbl V8 making 235hp. The toughest examples to find are any with the 401 V8, most of which were produced in 1974.
For transmission choices, a 3-speed column-shifted manual was standard with the 6 cylinders. A 3-speed automatic came with everything else, but it was optional on the sixes.
The 232 I6 was dropped for 1975. The 401 V8 was dropped for 1976. The I6's column shifted 3-speed manual was dropped for 1977. The final year for the Matador Coupe was 1978.