Dodge Royal Monaco
This model was new for 1975. The Dodge Royal Monaco was an attempt at a luxury level Dodge which, at most levels, they accomplished. Retractable headlamp doors, last seen on the '73 Monaco, made a comeback on this one. Three versions were offered which were base, Brougham, and the police-package. Body styles at first were 2-door hardtop, 2-door post, 4-door hardtop, 4-door post, and station wagon.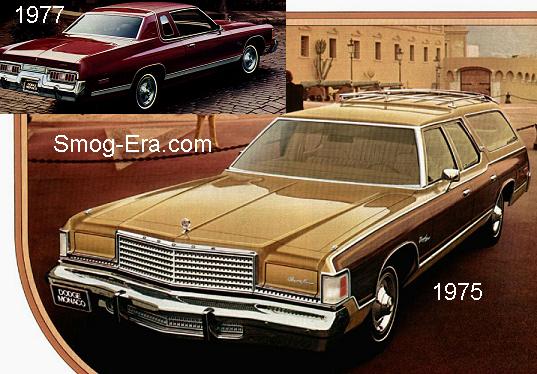 A 318 CID 2bbl V8 was standard in base cars, a 360 CID 2bbl V8 was standard in Brougham coupes/sedans, whereas a 400 CID 2bbl was standard in all wagons. Other engines offered were 360 4bbl V8., 400 4bbl V8, and a 440 4bbl V8.
In 1976, the 4-door hardtop was dropped, but all powertrain choices were carried over. For the final model year of 1977, the 400 2bbl was dropped and the 440 V8 was relegated to police-package cars only. This was the last C-body Dodge and it was replaced by the M-body Diplomat.