C.C.I. Eldorado Classic
While I don't have the exact year of introduction on this car, it's a fact that most of these over the top conversions hit a plateau in the very early 80s. The option list does include a mobile phone, so that makes the production run overlap atleast '82-'83. More about the options later. The Eldorado Classic started with a '79-'85 style Cadillac Eldorado and got 'pimpified'. Wow, that's a new word. National Coach did the actual conversion for C.C.I.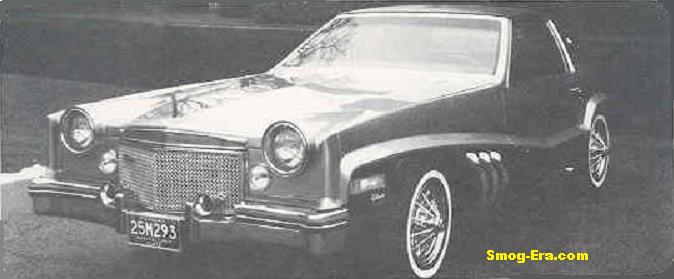 Not knocking the car or its creator because, after all, this type of stuff was popular during the timeframe. Now, if you did this to a car today, you'd probably be committed to a nice soft padded facility.
Many changes were done to get you an Eldo 'Classic'. Round headlights, round turn signals, a stone screen, and unique hood ornament were put out front. Down the side were new body lines, along with the requisite paint scheme said to imitate 1930s automobiles, On the rest of the body was a chrome luggage rack, custom side mouldings, faux sidepipes, and an ovalized rear window. More to the list were wire wheels, air horns, anti-theft alarm, and even a remote controlled starter. Looking at the factory literature, one has to assume about 20 inches along with the back seat was taken out of the body. Optional styles included a convertible or even a rumble seat add-on complete with its own windshield. Not much is known about the production numbers or model year range on these. If you know more, let us know.