Chevrolet Corvette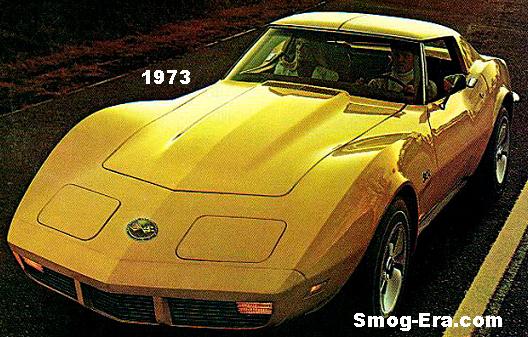 The Chevy Corvette for 1973 lost the chrome front bumper of the previous model year. In its place was a much cleaner appearing urethane nose piece. Both t-top coupe and convertible body configurations were offered. Top trim level the Corvette Stingray. Respectable power was still available— Engines this year were a 350 CID 4bbl V8 making 190 hp, a 350 CID 4bbl 'L82' V8 making 250 hp, and the 454 CID 4bbl LS4 V8 making 275 hp. Either 4-speed manual or 3-speed automatic transmissions were available with each engine.
The 1974 models received the urethane rear bumpers that the '73s weren't required to have. Power-trains and body styles offered were identical to the '73s.
For 1975, the only engines remaining were both 350 V8s. Unfortunately, catalytic converters, and the now single exhaust systems sucked some power from these.
For 1976, the convertible was dropped. Floor pans were changed to steel. Minor tirm changes as well. For 1976/1977, the same 350s remained, though were on a downward-spiral for horsepower.


The 1978s received a new glass-back greenhouse look. Special editions were the Indianapolis 500 Pace Car Edition, as well as the Silver Anniversary Edition. The 350 V8s started an uptick in power in '78. The 1979s essentially were carry-over models, but with a few small changes.
For 1980, the 'Vette offered the same two 350s, though a manual trans was no longer available with he L82. For California cars, a 305 CID 4bbl V8 backed by an automatic was all that was available. In 1981, the L82 350 and 305 were dropped, but the remaining 350 was now a 50-state engine.
In 1982, the manual transmission choice was dropped. A new 350 CID V8 with Crossfire Injection was introduced as the sole engine choice. The CFI system used two 2bbl throttle body injection units on top of the engine, but was never known for reliability. As the final Corvette of the generation, a Collectors Edition was offered. One notable feature of the C.E. was the back glass was changed form fixed to a flip-up hatch style. For 1983, officially, zero Corvettes were sold, but several '83 prototypes were built.