Chevrolet Citation
It replaced the Nova for the 1980 model year. Citation's platform shared the Nova's X-body designation, but now it was front wheel drive. This redesigned platform was shared with the Oldsmobile Omega, Pontiac Phoenix, and Buick Skylark.
While the outside dimensions were smaller, the interior and trunk boasted more room than the outgoing Nova. This was mainly due to no driveshaft hump and a flatter trunk that didn't need to accommodate differential movement. Also, while the last Nova weighed around 3400 lbs, the Citation saved weight by more than 800 lbs., coming in at just around 2400-2500.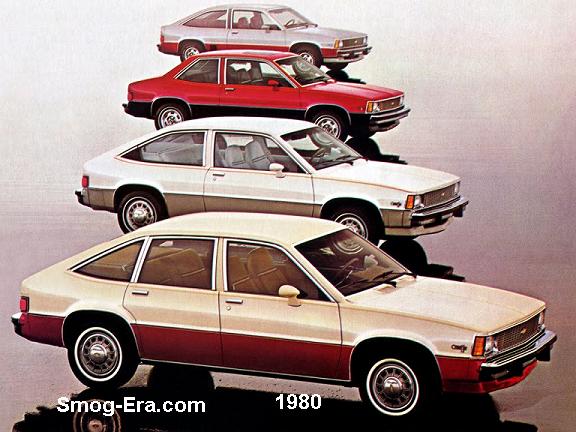 The body styles included a 2-door notchback coupe, a 3-door hatchback and a 5-door hatchback. The base engines were either a 2.5L 2bbl I4 making 84hp or a 2.8L 2bbl V6 making 115hp. Transmissions were 3-speed auto or 4-speed manual.
The performance version was known as Citation X-11, which was offered with the 2-door and 3-door bodies only. It garnered a tighter suspension, rally wheels, raised letter performance tires, sport mirrors, power-bulge hood, rear spoiler, 6000rpm tachometer and full instrumentation. Also part of the package was a mild trim blackout group and what is probably the most tasteful graphics done to a smog-era performance vehicle. But the true performance piece this year was the special gearing in both automatic and manual transaxles which pushed acceleration to better numbers.
More true performance came for 1981. The X-11 received the 2.8L 2bbl High Output V6 this year. It gained 20hp over the base 2.8 which brought it to 135. Torque was rated at 165 ft/lbs. Also changed was the tachometer, which now rose to 7000rpm.
For 1981, the 2-door notchback was dropped, but came back late in the 1982 model year. Also in 1982, the 2.5L 2bbl I4 was dropped and replaced with the 2.5L TBI I4, bringing horsepower up to 90. In the 2.8L V6, power dropped slightly to 112 this year. For 1983, the 2.8L HO V6 was now available in any Citation.
On a sour note, the Citation and its X-body brethren were plagued with transmission and braking issues. However, the Citation has been, and forever will be the poster child for X-body problems. For 1984, the line was re-named 'Citation II' as a marketing ploy to show potential buyers that the issues were resolved. It didn't work.
For enthusiasts, the 1981 X-11 is the best bet. The 1980 version had only the regular 2.8 V6. The 1982 up versions lost 20 ft/lbs of torque, down to 145.