Gran Torino
The Gran Torino had a few more bells & whistles over the regular Torino, including a nicer front fascia. For '73, the car received a mild re-freshening over the '72s.
Gran Torino's biggest claim to fame was a '74 model in the TV series Starsky and Hutch. This showcased the car's potential as a high-performance muscle car during a time when fuel economy was more important than horsepower.


As it turns out, the Gran Torino can in fact be made into a great performance car after a few issues are addressed, such as the weak 70's-era tuning and soft suspension. The long engine bay is able to hold any Ford V8, there are plenty of suspension components available, and these cars are still relatively cheap to buy. Don't let the size and weight fool you; these vehicles can run and handle with the best of them when properly equipped.
Many trim levels were available, after you stepped up from the standard Torino. These were Gran Torino, Gran Torino Brougham, and Gran Torino Sport. Station wagon connoisseurs could opt for the Gran Torino Squire, though wagons were available in base trim as well.
The Brougham was the top-of-the-line model, but from a collect-ability standpoint the Sport models are more desirable. They included features such as bucket seats, a floor shifter, center console, and the top handling package as standard equipment. Sports were made up until 1975.
Engines available since '73 were a 250 I6, 302 V8, 351W V8, 400 V8, 460 V8. Additionally, the two best engines, according to popular opinion, were available up until 1973 only. These were the 351 Cobra Jet and the 429.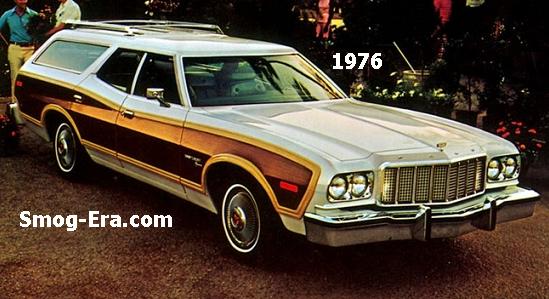 Gran Torinos were made up until 1976, then were replaced by the LTD II. Although it appears large by today's standards, the Gran Torino was a midsize car in its day. Few well-optioned Gran Torinos still exist today, but when found are generally in good condition. Look for sedans, coupes, or station wagons as they were all made available by Ford.