Plymouth Scamp
Scamp was the 2-door coupe of the Plymouth's Valiant line. The platform it sat on was Chrysler's A-body. The wheelbase was 111 inches, which strangely enough, was 3 inches longer than that of the Valiant sedan in '73.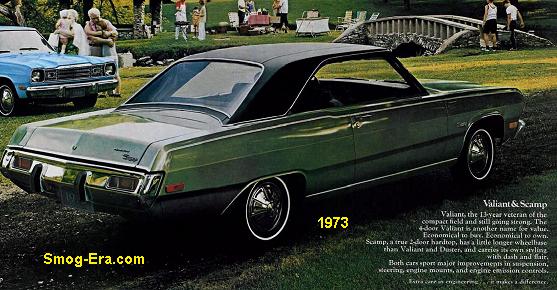 The standard engines this year were a choice between the 198 CID 1bbl S6 or the 318 CID 2bbl V8. Optional was a 225 CID 1bbl S6— Yes the mid-tier engine was an option. The base transmission this year was a 3-speed column-actuated manual. Optional was a 3-speed floor-shifted manual, or a 3-speed column-shifted automatic. For other options, one could get a vinyl top, sunroof, heavy duty suspension and/or rallye wheels. Raised letter tires were available too. As for brakes, they were 4-wheel drum unless the V8 was ordered, in which case front discs were automatically installed. However, the front discs were optional with the 'lesser' engines.
In 1974, the same general features were carried over. There was a change in the rear lights, however. This year the lights got wrapped around the bumpers, presumably for more side lighting coverage. The lights kept the same basic look until the end.
For 1975, the 198 S6 was dropped, leaving the 225 and 318. The final year for the Scamp was 1976.