Datsun 240Z
The timeline of this 2-seater barely touches the smog-era. The final model year of the 240Z was 1973, though it was not the last year of the Datsun Z-car lineage.
The 240's engine output was 151 horsepower. Delivering the power was a 2.4L SOHC 2-1bbl I6. The twin carburetors were supplied by Hitachi. The '240' portion of the car's model name depicts the engine size. Transmissions this year were a choice of a 4-speed manual or a 3-speed automatic. The rear axle ratio was a respectable 3.36:1 with the manual, and 3.54:1 with the automatic.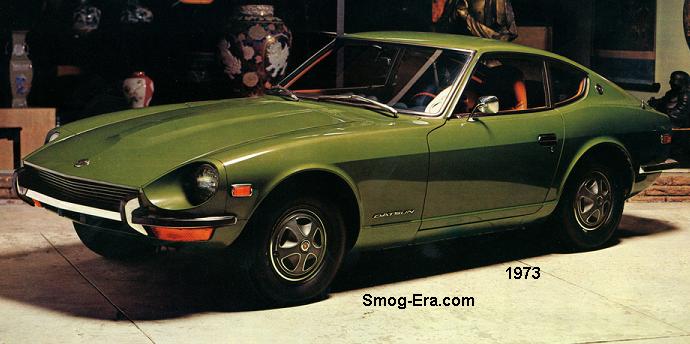 The car was ahead of its time, having features not commonly seen until the end of the decade. The front brakes were disc but the bigger news was the suspension. It was independent all the way around using a strut at each corner. Steering was of a rack & pinion variety.
Standard wheels 14 inch steel units covered by hubcaps. Alloy mags of the same size were optional. The car weighed only about 2300 lbs and a 14 inch wheel was relatively large on such a light vehicle at the time.
The interior was far from spartan. Its reclining bucket seats were covered in vinyl that offered a faux leather appearance. Gauges included a 8000rpm tachometer and a 160mph speedometer. Also part of the deal was a clock.
The 240Z was replaced the next year by the 260Z.