Dodge Dart
Note: This article concentrates on the traditional, mostly 4-door Dart of the smog-era. See separate pages about the Dart Sport and Dart Swinger. Links are at the bottom of this article…
The Dart of 1973 received many improvements over the previous year. New brake calipers, a larger wheel bolt pattern and stronger ball joints were a few of the updates. The car was on the 111 inch wheelbase A-body platform.
The basic Dart and Dart Custom were 4-door family sedans that had seating for six. Engines were a choice of a 198 CID 1bbl S6, a 225 CID 1bbl S6 or a 318 CID 2bbl V8. Transmissions were a choice of 3-speed manual, 4-speed manual, or 3-speed automatic.
In 1974, the Dart SE was launched for sale. The SE offered a more plush interior, deluxe hub caps and a standard 3-speed automatic transmission.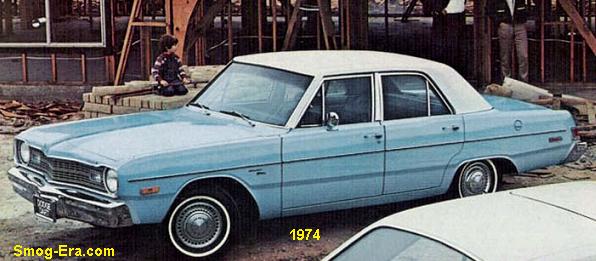 For 1975, not much changed with engines, except the 198 S6 was no longer offered. There still was a 225 S6 (95hp) and 318 V8 (150hp). The news of the year was the availability of a Dart 2-door hardtop that wasn't a Swinger. It was however, offered only in SE trim.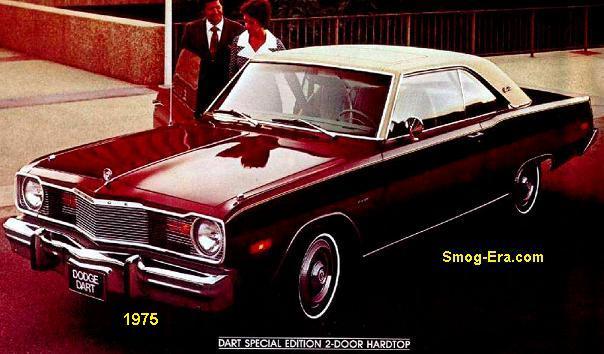 Besides standard family car configuration, the Dart was offered with a Taxi Package until the end. This group added heavy duty seating, rubber floor covering and extra door pulls. Also part of this package were heavy duty brakes & suspension, high output charging system and maximum duty cooling. In the Dart's last year the taxi group was only available with the Slant 6 for power.
A police package, coded A38, was offered for the Dart's last year, 1976. This package added a rear sway bar, firm suspension, heavy duty front brake pads, heavy duty cooling, high output charging system, improved interior lighting, as well as a 120 mph calibrated speedometer. This version was even available with a 360 CID 4bbl V8 (220hp), unlike the other 4-doors. The Dart A38 is a rarity nowadays, as they weren't exactly a sales hit back then.
The Dart was officially replaced by the Aspen, though both were sold concurrently in 1976.