Alfa Romeo Sprint Veloce
It was the second installment of look-alike 4-seater fastbacks that Alfa Romeo would have during the smog-era. The Sprint Veloce replaced the Alfetta GT for the 1978 model year. It mostly carried over as the same car minus the Alfetta GT name. It continued with the same 94.5 inch wheelbase and 171 inch overall length. New features were a clock, heated rear window, and updated rocker and belt moldings.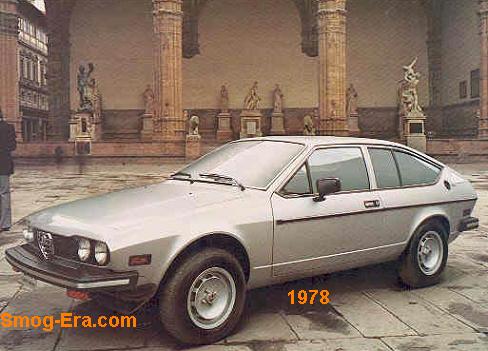 The drivetrain consisted of the same aluminum 2.0L DOHC MFI I4 found in the previous car. It even sported the same Spica mechanical fuel injection system. But this iteration added one more pony to 111hp, and twelve more units of torque to 122 ft/lbs. The transmission was a 5-speed ZF manual. The car's rear axle ratio was 4.10:1. Top speed was about 116mph and 0-60 took 10.1 seconds.
For 1979, torque climbed to 122 ft/lbs, while horsepower remained the same. This low end grunt undoubtedly would have helped the 0-60 times. The last year for the Sprint Veloce was 1980. The more desirable GTV-6 replaced it for 1981.