Chevrolet S10
The S10 was introduced as Chevrolet's own 'in house' compact truck. Though the 1982 model year overlapped with each, it effectively replaced the Chevy Luv.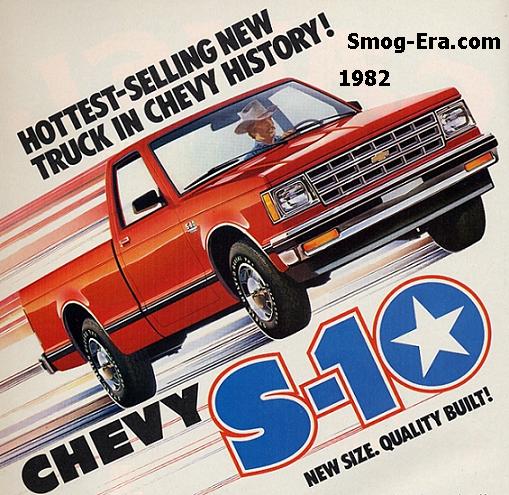 In it's inaugural year, it was only available in standard cab and 2 wheel drive configuration. The first engines provided in the build sheet were as follows. First a 1.9L Isuzu 2bbl I4 with 84hp was on the list. The trade off was an impressive 40 miles per gallon on the highway. Second engine you could get was a 2.8L 2bbl GM V6 with 110hp.
For 1983, a newly available GM-built 2.0L 2bbl I4 could be acquired with the S10. It made 83hp, but 108ft/lb of torque. The Isuzu 1.9L was still on the option list, and as a comparison, made 101 ft/lb of torque. The bigger news was that 4 wheel drive and an extended cab were now obtainable on the truck. Good news came for diesel enthusiasts as well in the form of an available 2.2L Diesel Isuzu I4. Horsepower on this one was rated just 58.
The S10 would continue to improve over time, but '83 is where we stop. The great aspect of an S10 is that small block V8 swaps are relatively common. Kits for a conversion such as this are readily purchased.