Datsun 200SX
It was based on Japan's Datsun Silvia. The 200SX arrived in the U.S. for model year 1977 as a sporty, but cheaper, alternative to the 280Z. This one sat on a similar wheelbase to the standard length Z-car at 92 inches. Like the Z, it too was rear wheel drive. Power front disc brakes were standard equipment. One body style was made at first which was a 2-door fastback coupe.
The engine underhood was a 2.0L SOHC 2bbl I4 with 8.5:1 compression. It made 97hp and 102tq. Standard was 5-speed manual trans, though a 3-speed automatic transmission was an option for those that didn't feel like rowing the 5-speed. Out back was a punchy 3.89:1 axle ratio.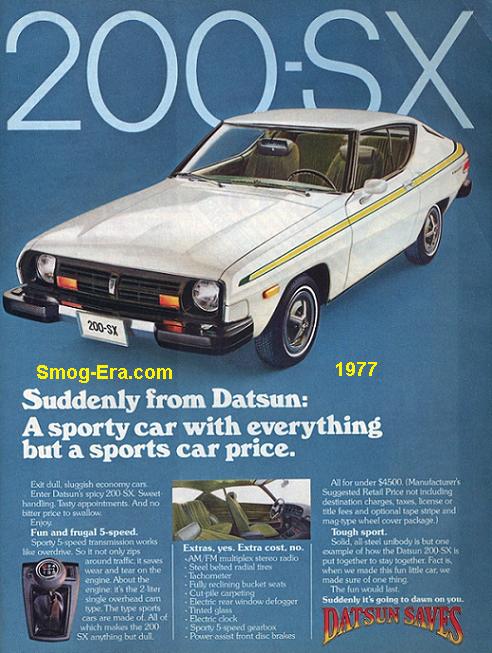 at the same time the car was redesigned for 1980, the fastback coupe body style was dropped. Replacing it was a traditional coupe as well as a 2-door hatchback. The 2nd generation 200SX was ready for the 1980s having a squared off shape. Added this tear were two more trim levels— Deluxe and SL.
Also in 1980, a new 2.0L SOHC EFI I4 was powering the car. Output was now 100hp and 112tq. The rear axle ratio was dropped to a less-sporting 3.70:1. Transmissions were carried over.
1981 was a carry-over year. In 1982, the engine was updated yet again. It was now a 2.2L SOHC EFI I4. Power was up to 102hp and 129tq. Our last year here, 1983, was a carry-over year once again.