Plymouth Fire Arrow
Officially part of the Arrow line, though marketed somewhat on its own was the Plymouth Fire Arrow. It arrived for 1979, and only in the color of white.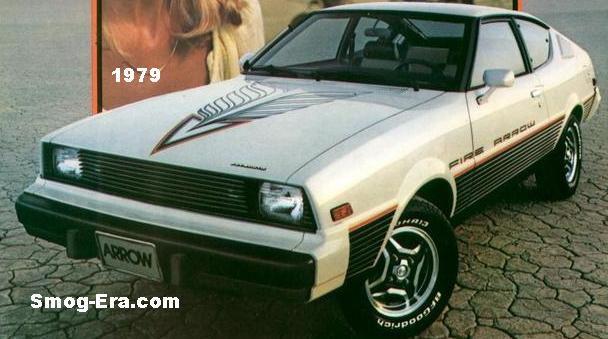 Opting for the Fire Arrow over the standard Arrow came with several additional features. This added 'FIRE ARROW' graphics down the side, an arrow-like hood graphic, body color bumpers, 4-wheel disc brakes and sportier interior.
Two engines were available. These were the 1.6L SOHC 2bbl Mitsubishi I4 making 83hp and the 2.6L SOHC 2bbl I4 making 108hp. Standard was a 5-speed manual transmission, though a 3-speed automatic was available for additional cost.
In 1980, its second and final year, the Fire Arrow was gone-through cosmetically for one last go. These cosmetics included a total of three fresh paint schemes. Each scheme was almost viewed as a separate trim package because of the way they were equipped.
The first was tan with a brown hood and the second was blue with a dark blue hood. Both of these came with chrome bumpers and a choice of either engine.
The third scheme was white with a flat black hood. This one retained body color bumpers and was available only with the 2.6 engine, making it the most desirable version.