Impulse
Isuzu was starting to carve a niche in the U.S. as of 1983. It was time for a sporty car in its lineup. Enter the Impulse. It was a rear wheel drive 4-seater GT sitting on a 96 inch wheelbase. The overall length was 172.6 inches. It weighed just over 2800 lbs.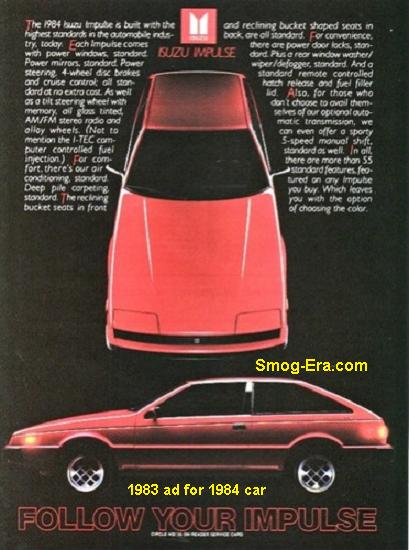 Underhood, a basic commuter engine was found— nothing too special this year. It was a 1.9L SOHC EFI I4. It was rated at 90hp and 108 ft/lbs of torque. Shifting the gears were either a 5-speed manual or the option of a 4-speed automatic.
The Impulse had some interesting standard features. One was automatic climate control. Others were adjustable switch/control pods, plus even a built in stop-watch. Four wheel disc brakes were also a standard feature.