Chrysler Fifth Avenue
The name 'Fifth Avenue' was used to describe the top trim level of the New Yorker. And a plush car it was. Its first year was 1979. This Fifth Avenue had a wheelbase of 118.5″, which was still fairly long for a 'downsized' metric-car. Standard power was a 360 CID 2bbl V8 rated at 150hp. Optional was a 360 CID 4bbl V8 making 195hp. For a credit option, a 318 CID 2bbl V8 making 135hp was also offered.
In 1980, engine choices opened up to include a 318 CID 4bbl V8 for California cars which made 155hp. The 318 2bbl was now the base engine and power dropped to just 120hp. The 360 2bbl dropped to 130hp, while the 360 4bbl dropped to 185hp.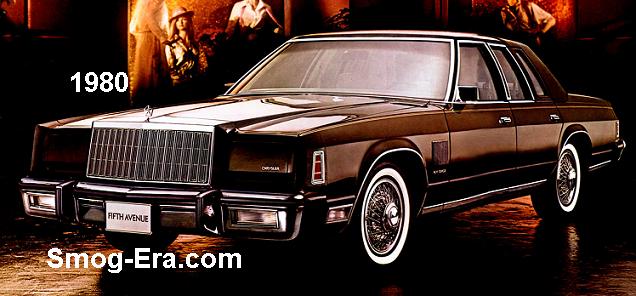 Both 360 V8s were dropped for 1981. You could still get both 318s, but that was it.
The car changed up for 1982. At this time it was moved onto the smaller M-body platform, which gave it the same general appearance as a Dodge Diplomat. The wheelbase was now 112.7″. Standard power was now a 225 CID 1bbl S6, rated at a disgusting 90hp. The two 318 V8s were still offered.
The 318 4bbl V8 was dropped for 1983. The 225 S6 and 318 2bbl V8 were the offerings, that's all. A Luxury Equipment Package was new this year. It added the V8 engine as well as more standard equipment. The Fifth Avenue name carried on through the end of the decade, but we'll stop here.