DeTomaso Pantera
The DeTomaso Pantera arrived in the U.S. via Ford Motor Company. It was imported from Italy and sold through Lincoln-Mercury dealers. "Pantera" translates directly to "panther" in Italian.
In 1973, the Pantera was already in its third American model year. Previous imported models were known for poor fit and finish, lack of corrosion-resistance, and getting exceptionally hot inside the driver compartment. All these issues were addressed, to a degree as of its third year, though far from a non-issue.
On a better note, the car from its inception, was almost a decade ahead of its time. It had four wheel disc brakes and rack and pinion steering which was not too common until the early 1980s. Wheelbase was 98.8 inches and curb weight was about 3300 lbs.
The 1973 cars went through a refreshing from previous years to satisfy U.S. bumper strength requirements. Big, rubberized bumpers were fitted front and back. American versions were trimmed in what was equivalent to Europe's Pantera L.
Powering the '73s was a mid-mounted 351 CID 4bbl Ford Cleveland V8. Autolite provided the carburetor. The compression ratio in the American version was 8.6:1. Output was 266 hp with 301 ft/lbs of torque.
This 'cat' had a rear mounted 5-speed manual transaxle supplied by ZF. The final drive ratio was a stout 4.22:1. Zero to sixty mph was good, even by modern standards, at 6.1 seconds. Top speed was estimated to be 140 mph.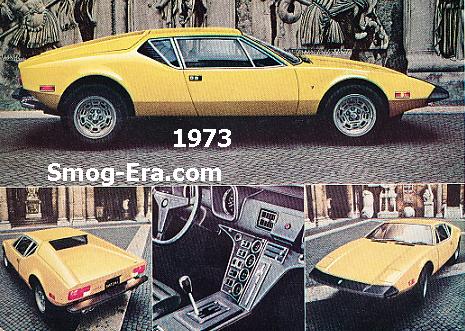 For 1974, a Pantera GTS model was newly available in Europe, or the Gray Market for that matter. This package added better tires, wheel flares, 350hp engine, and a more luxurious interior, once again, in Europe. A GTS-appearance package was available in the U.S. this year. While it looked great, it netted you no extra performance.
There were no 1975 or later models imported under Ford's control, due to slumping sales. This was a time where the oil crisis, economic recession, and pollution were on everyone's mind. The 1975 through 1980 Euro Panteras had 330hp in the base car, with an estimated top speed of 160 mph.
In 1981, DeTomaso reintroduced the Pantera to the U.S.-market. This time the cars had a wood-trimmed interior with leather seating. The price rose to $60k+. For 1982, a GT5 version was added, as well as a GT5-S. These were essentially trimmed comparably to the earlier GTS cars. Pantera was around through 1989.