Plymouth Arrow
Missing a small car in the U.S. after '73, Plymouth gave additional thought to bringing back a subcompact, or at least something small. Hence, the Arrow was born in 1976. Like the Dodge Colt, the Plymouth Arrow was Mitsubishi-based. Its wheelbase was a short 92.1 inches, though the car appeared bigger than it was. For its first year, trim levels were the base Arrow, and the performance-oriented Arrow GT.


The body style was limited to a 3-door hatchback from the factory, but it was relatively slippery in the wind. Because of this, the Arrow body shell was quite popular in the Funny Car circuit. As for the street car, a secondary body 'function' was available through the dealer level. It was an add-on tent style camper unit for just under $80.

Powering them were a choice of two different engines. The low end was a 1.4L SOHC 1bbl Mitsubishi I4 which made around 72hp. Optional on the base car, but standard on the GT was a 1.6L SOHC 2bbl Mitsubishi I4 that made 83hp. The transmission choices were a trio of 4-speed manual, 5-speed manual or 3-speed automatic. The 5-speed was standard in the GT.
For 1977, the Arrow GS was added as a mid-line trim level. The year also brought forth a new top engine, the 2.0L SOHC 2bbl Mitsubishi I4 rated at 93hp. The 1.6 was still in the offerings. Because of this, the underpowered 1.4 engine was mostly overlooked by marketing as well as the buying public.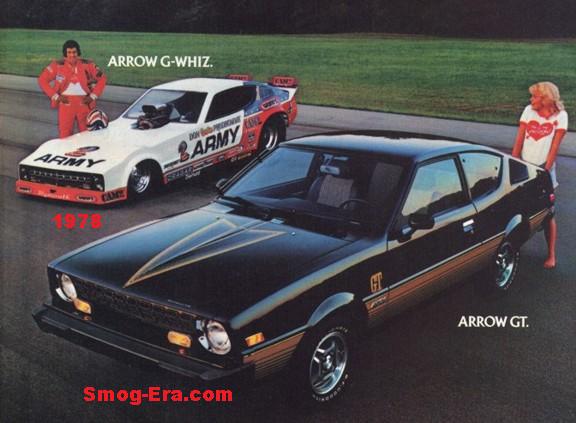 In 1978, because of the previously mentioned reasons, the 1.4 engine was gone from the offerings this year. This year the Arrow Jet package was introduced. It added a flat black hood, two tone paint, and graphics, all of which gave the car a fighter jet motif.

The Arrow was updated in 1979 to include rectangular headlamps, restyled taillights, a new grill, smoother bumpers and a wider rear axle. The 1.6L remained, while a new 2.6L SOHC 2bbl Mitsubishi I4 replaced the 2.0L. It was rated at 106hp.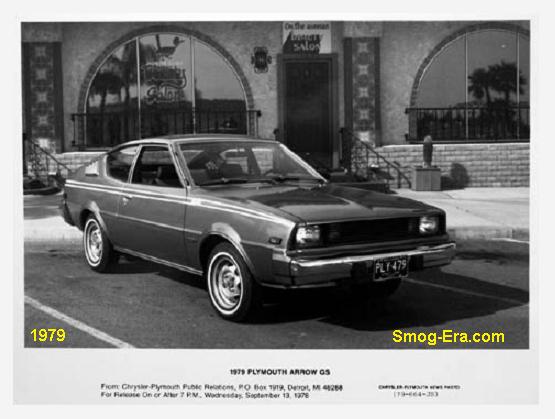 1980 cars were carry-over models since it was the last year for the Arrow. The Arrow was competing internally with the Plymouth Sapporo since that model's introduction in 1978 and it was time to let it go. The bigger changes were available in the Fire Arrow this year. Read more about it HERE.