Urraco
This Lamborghini was a 2+2 coupe, sitting on the same 96.5 inch wheelbase as the Countach. It was around since 1972, aimed at the entry level exotic market. The body design was by world renowned design group Bertone.
No V12 found its way into this Lambo. Powering it as of 1973 was a mid-mounted 2.5L SOHC 4-2bbl V8. Just 220hp and 166 ft/lb or torque came out of this engine. Despite the relatively low power, the car's low 2425 lb curb weight did help acceleration. The 2.5 was sold through 1976. All Urracos were shifted with a 5-speed synchromesh gearbox.
For 1974, another engine was added worldwide, so check for 'grey market specials'. The previously mentioned 2.5 was still offered in what was now more precisely known as the Urraco P250. The other choice was a 2.0L SOHC 4-2bbl V8 in the Urraco P200 and it produced 182hp and 130ft/lb of torque. The 2.0 was sold through 1977.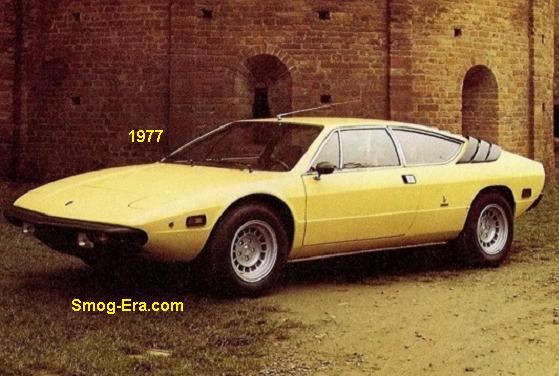 In 1975, a third engine choice was added in form of the Urraco P300. It was a 3.0L DOHC 4-2bbl V8. It made 265hp and 202 ft/lb of torque. This was the engine that would take the Urraco to the end of production which was 1979.