Miura
The Miura here? Lamborghini experts will note that the Miura officially stopped production after the 1972 model year. Less than 800 copies were built during its entire model run of 1966 onward, making it quite rare. Undoubtedly, leftover examples were still on sale in 1973, and the Countach would not arrive until 1974, so we'll cover it here.
Body styling was done by the Italian design group Bertone. It sat on a 98.6 inch wheelbase with a 172.8 inch overall length. One interesting feature about the body was that both ends of the car could be flipped open in their entirety for service access.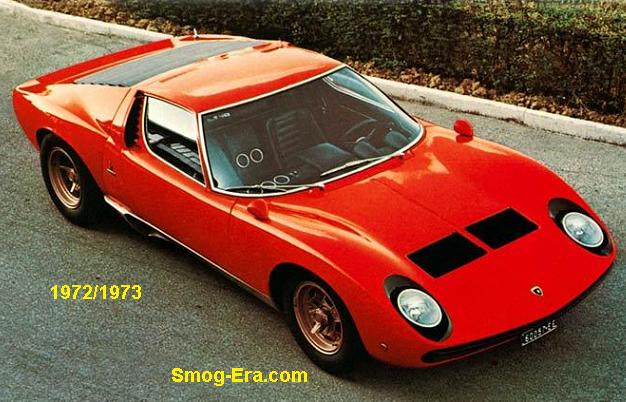 The standard engine was quite impressive for the time. It was a mid-mounted 3.9L DOHC 4x3bbl V12. The carburetors were provided by Weber, and the compression ratio was 10.7:1. It produced 370hp and 286 ft/lbs of torque. The sole transmission was a 5-speed manual.
A higher trim named Miura SV was available only in the final year. It had a 3.9L DOHC 4x3bbl High Output V12. This version made 385hp and 294 ft/lbs of torque thanks to camshafts and carburetors which were further tuned for additional performance. The SV also added flared wheel housings and wider rear wheels. Top speed was purported to be 175+ mph.
Just four options were offered this year. These were air conditioning, Koni shock absorbers, 8-track stereo, and power steering.
See the Countach page HERE.