AMC Concord
The Concord revealed itself for 1978, spawned from the leftovers of the Hornet. It came in a choice of three trim levels, which were base, Sport, and D/L (See our separate AMX area for info on that version). Body styles were a 2-door hatch, 2-door coupe, 4-door sedan, or a station wagon. In its first year standard power was provided by a 232 CID 1bbl I6. Optional was a 258 CID 2bbl I6 or a 304 CID 2bbl V8. Backing these engines were a 3-speed automatic transmission, 3-speed manual transmission, or a 4-speed manual transmission. Late in 1978 an optional 122 CID 2bbl Volkswagen I4 was made available for the fuel-economy-minded.

In 1979 the Sport trim level was dropped and replaced with Limited, which was placed above D/L in hierarchy. There was also a limited production Silver Anniversary trim for this year. The most visible change was the new front lighting treatment.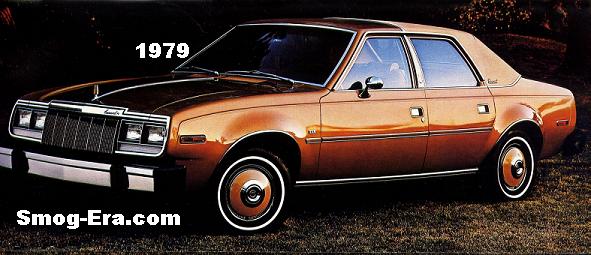 For 1980, The 2-door hatch body style was killed in the lineup. The 122 I4, 232 I6, as well as the 304 V8 were all dropped. A 151 CID 2bbl Pontiac I4 was added and the 258 I6 was now the top engine.
1981 saw the availability of a convertible Concord. This was a Griffin aftermarket conversion sold through AMC dealers, and is an extremely rare vehicle. A 5-speed manual transmission was added to the selections in 1982. The 2-door coupe was dropped in 1983, and it was also the final year for the Concord.