Audi 5000
The Audi 5000 replaced the 100LS for 1978. It was a slightly larger car at 105.7 inches of wheelbase and 189.4 inches of length. Just one version was available at first which was a base model 4-door sedan. For power, the standard engine was a 2.1L SOHC EFI I5 which made 103hp and 110tq.
A new luxury trim called 5000S was added for 1979. The 'S' added a power antenna, air conditioning, front vent windows, height-adjustable driver seat, alloy wheels, power windows, remote trunk release.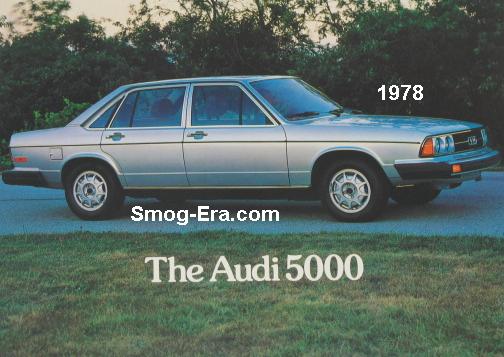 For 1980, the 5000 received a slight appearance upgrade to rectangular headlamps. This year the 2.1L I5 lost a few horsepower, down to 100.
The 5000 Turbo came to light. The 'new for 1980' 5000 Turbo received a 2.1L SOHC EFI Turbo I5 which made 130hp and 142tq.
Another engine was added in 1980 as an option which was a 2.0L SOHC Diesel I5. It made only 67hp and 86tq. For 1983, this diesel was replaced with a 2.0L SOHC TurboDiesel I5 making 84hp and 127tq.
The Audi 5000 nameplate carried on until the end of the 1980s.