The Mustang line got a radical redesign for 1974, a year late for the first oil crisis. It was now officially known as Mustang II. At 175 inches long, this generation was the shortest in length, and was based on Pinto architecture. While the car itself is scorned by purists to this day, it was one of the best selling Mustangs of all time. Bodies that could be had were a 3-door hatchback or a 2-door coupe. T-tops were an option for 1976-1978.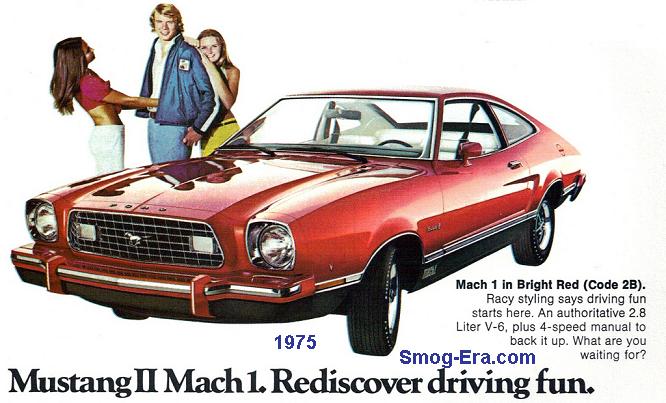 Engine offerings in all four years were 2.3L 2bbl I4 (up to 89 horsepower in 1977) and a 2.8L 2bbl V6 (up to 105hp in 1974). As of 1975, a 302 CID 2bbl V8 (up to 139 horsepower in 1977) became an option. Transmission offerings for this era were a 4-speed manual or a 3-speed automatic.
Trims were base, Ghia, Stallion ('74-'77), Rallye ('75-'78), Mach 1 ('74-'78), Cobra II ('76-'78) and King Cobra ('78 only). On a side note, Mustang II front suspensions, and aftermarket units designed from them, are still very popular to swap under street rods, early trucks, etc., due to their compact design. The Mustang II was an exceptionally popular car, despite the usual bad rap of being one of the worst cars of all time. The 'II' surname was dropped for the 1979 redesign.