RecTrans Discoverer
This almost should be in the Dodge area, but it looks goofy enough that Dodge would never have made it, directly anyway. The Discoverer was made for model years 1971, 1972, 1973, and 1974. Before RecTrans Corporation started a build, these were stripped Dodge motorhome (M300) chassis, which itself is closely related to Dodge's 1-ton van. The engine is a Chrysler Industrial 413 CID 4bbl V8 that most likely puts out in the neighborhood of 250hp. Backing it up is a 727 Torqueflite 3-speed automatic. Dual rear wheels do the spinning out back. Power steering and power brakes were standard. As for gas mileage, these supposedly got around 10 mpg at highway speed, which is not bad for such a heavy vehicle.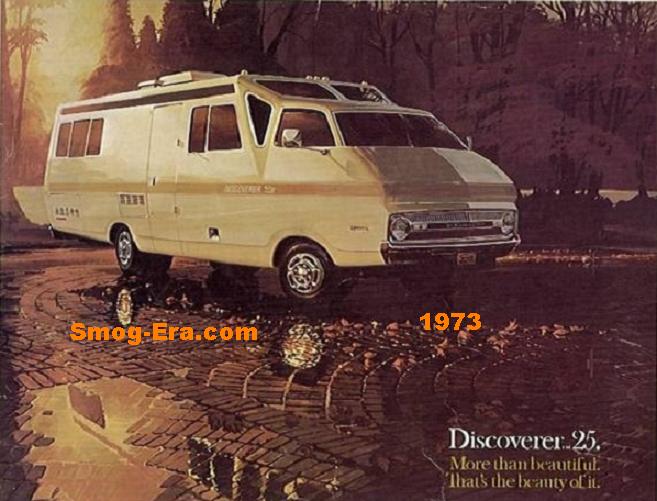 A Dodge van grille is used with 'Discoverer' replacing the Dodge script. The roof & windshield combination from a Dodge van is what's used out front. The rest is made out of fiberglass. Its overall shape makes it one of the most aerodynamic motorhomes on the road, even today. Body lengths of 22, 24, and 25 feet were available.
Inside, this thing can sleep 5 in relative comfort. An auxiliary air conditioner unit is anchored to the roof. On board are a furnace and refrigerator, both of which can run on LPG or electricity. Rounding out the package is a dinette table and bathroom facilities. Speaking of bathrooms, there was even an option that would take the sewage from the tank burn it via the exhaust system— no lie!
These things stickered between $13000 and $18000 back in the day. A production total of just 1875 were produced. They're still out there, but getting tough to find.